Winter Lights at Canary Wharf is now open, it's the 6th year of the Winter Lights and I have been to all of them. In one of the gloomiest months of the year, it certainly brightens up parts of London. With 26 light installations dotted around the area, you will get plenty of exercise walking between them. They say it takes around 90 minutes but you can double that or more for photographers. If you are a photographer and don't go out taking pictures that often then this is an ideal opportunity to start the new year practising your photography.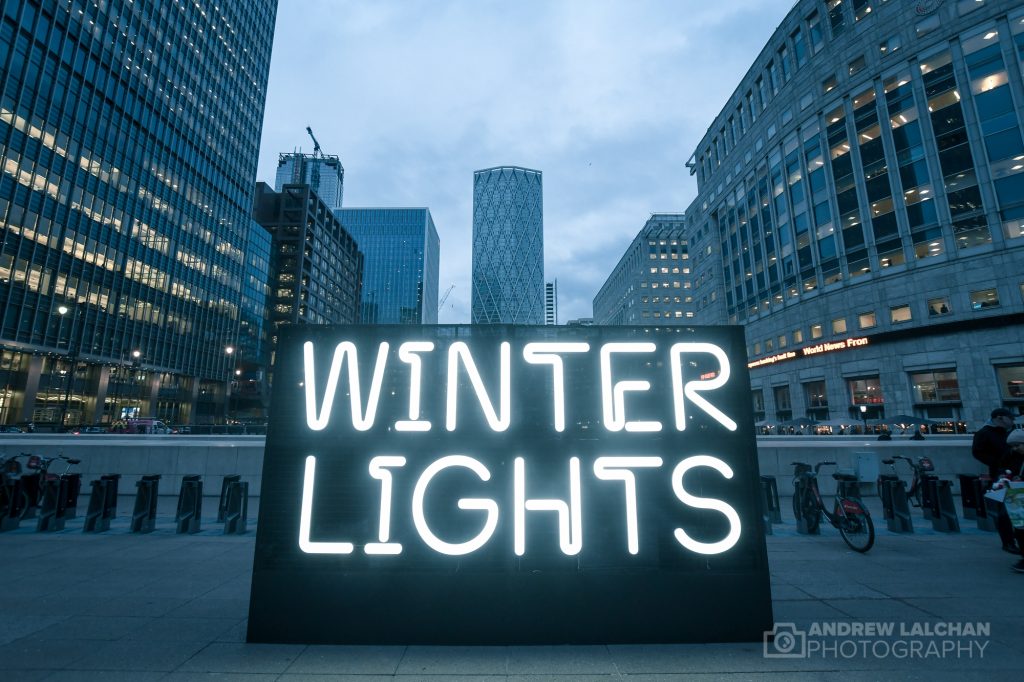 Winter Lights 2020 in Canary Wharf
An excellent map as always is provided and this year brings back the parts that are indoors which shows off a light exhibition.
The lights can be visited between 16th and the 25th January, and they run between 4pm and 10pm. Also, remember to wrap up warm as it gets very cold near the river. The best way to get there is to use the Jubilee line and get off at Canary Wharf station.
Light Art installations
Below are some of my favourites that I have seen so far plus which ones I think are interesting to photograph, some of the light installations are new.
Ditto
An immersive light installation built by Ithaca Studio. Columns of light surround you from below to up above.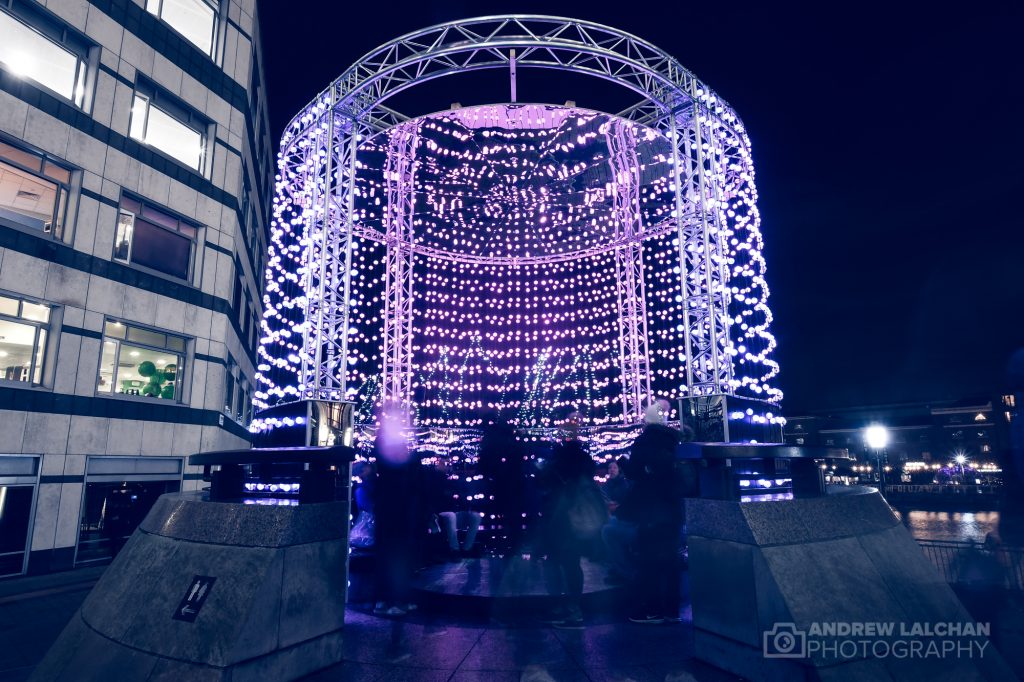 Ditto – Wren Landing [12]
No. 12
IG : @ithacastudio
Time & Tide
An hour glass design built by Paul & Pute. Inspired by nature it uses biodegradable materials and its message is that time is running out to save the planet.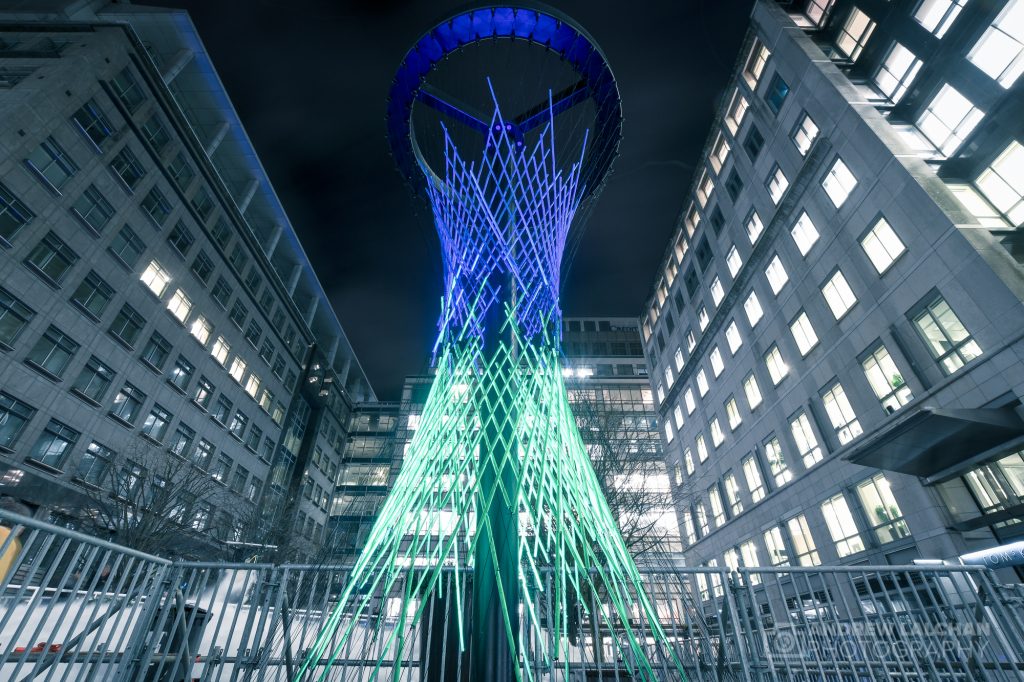 Time & Tide – Columbus Courtyard [7]
No. 7
IG : @pauljames_design
Lactolight
7344 recycled milk bottles make up this installation built by Lactolight. Each bottle becomes a pixel in a low resolution video screen.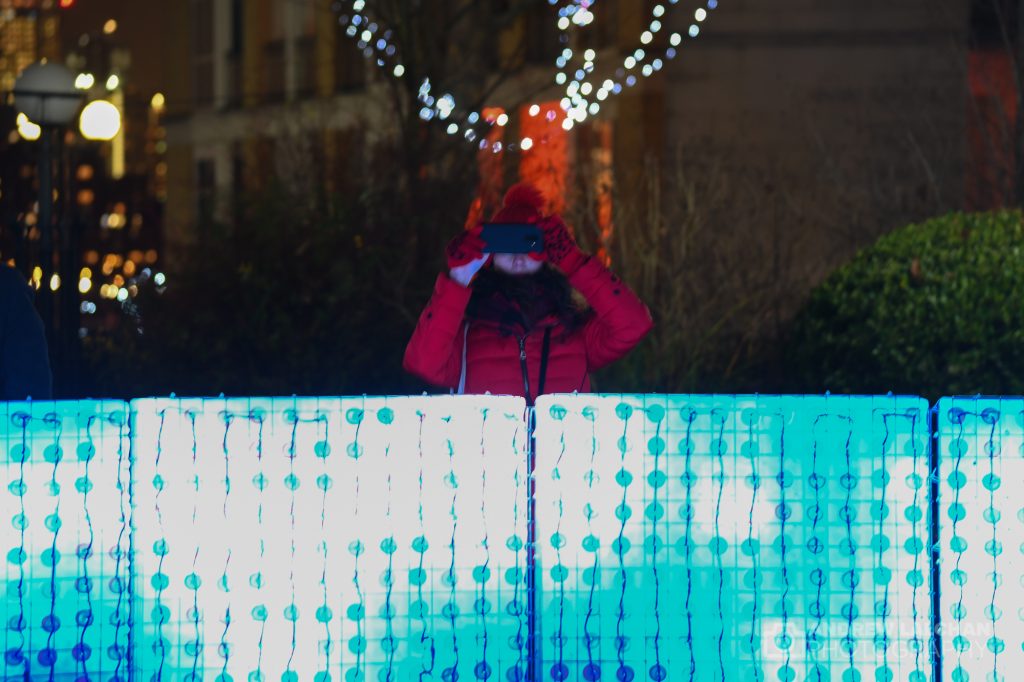 Lacto Light – Westferry Circus [9]
No. 9
IG : @jackwimperislight
Constellations
Joanie Lemercier's Constellations takes you on a trip through space with amazing visuals projected onto a giant water screen with electronic soundscapes by producer Paul Jebanasam. This was in my top 3 favourite installations for this year.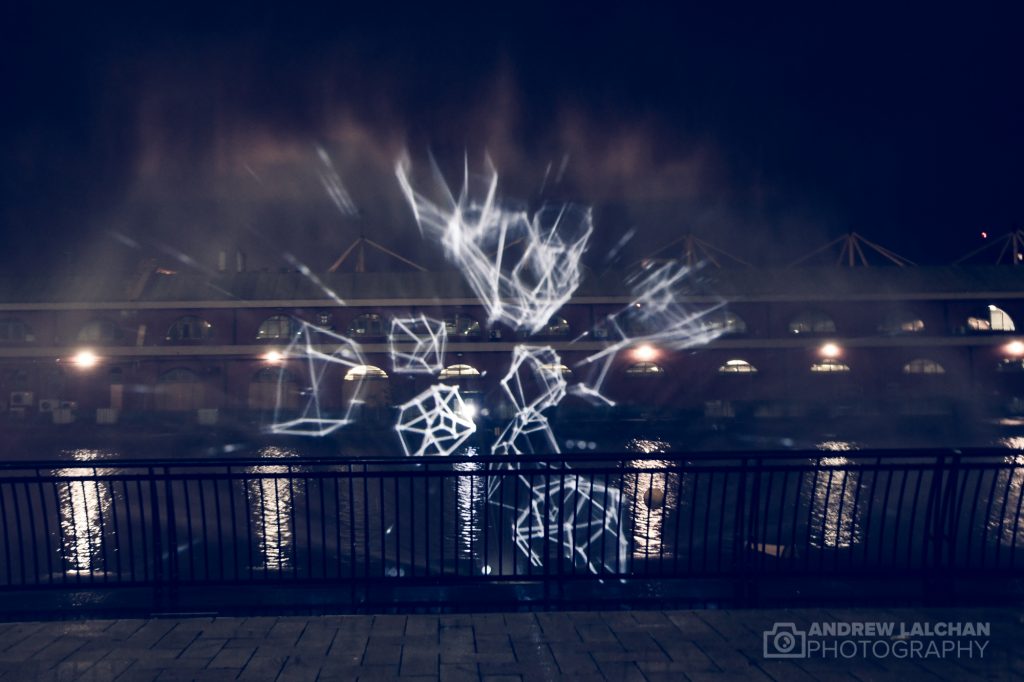 Constellations – Dockside Level -1 Cross Rail Place [16]
No. 16
IG : @joanielemercier
Desire
A pair of red lips or a heart? This light installation is built by Uxu Design and is made up of 1500 red lights. Each light represents a nerve ending.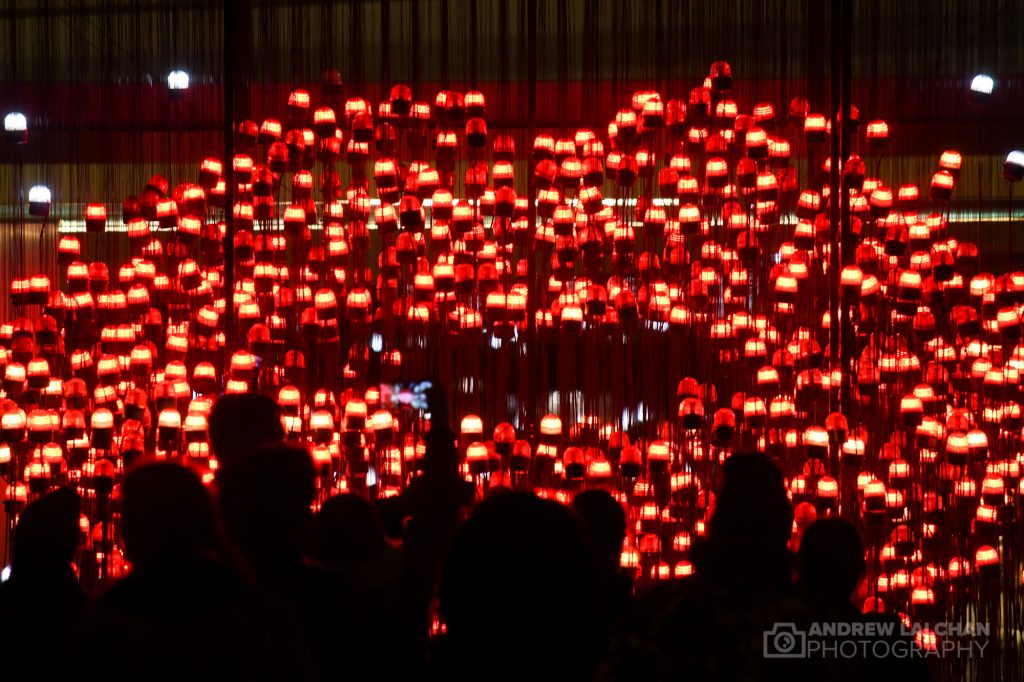 Desire – Dockside Level -1 Cross Rail Place [15]
No. 15
IG : @uxustudio
Mountain of Light
At 4 meters high this installation towers above you, computer-controlled LED lights to react to your movement and others around you. Built by a New Zealand company called Angus Muir Design.
No. 11
IG: @angus_muir_design
Seed of Life
Built by Amber Lights UK, a kaleidoscope of light bouncing off the glass hexagon interior. Enabling you to step inside the capsule.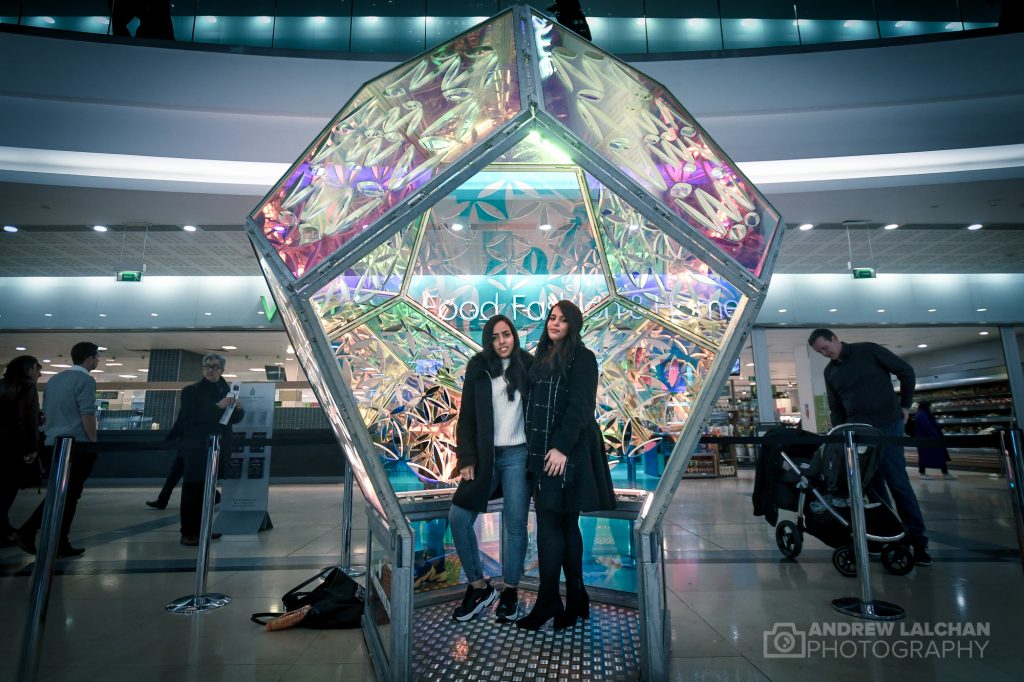 Seed of Life – Canada Place [17]
No. 17
IG: @amberlightsuk
Affinity
Built by Amigo & Amigo an Australian art company. An immersive installation which reacts to its surroundings. There are 120 interconnected globes which have sensors in them.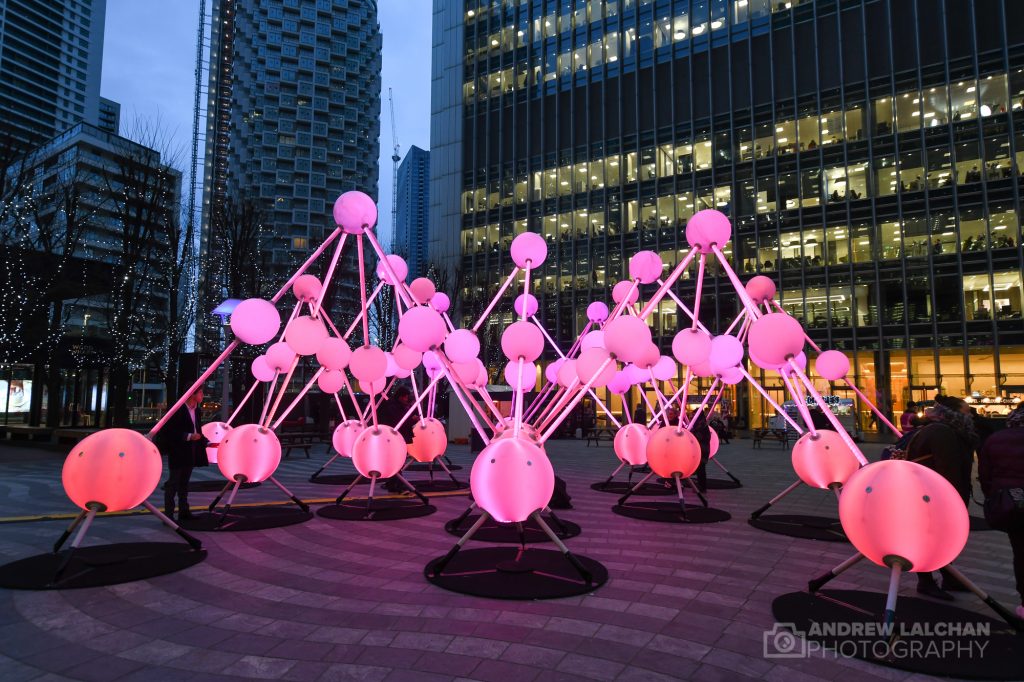 Affinity – Montgomery Square [21]
No. 21 – Montgomery Square
IG: @amigoandamigo
Photographs
A selection of photographs are above plus lots more are on my Flickr account plus more to be added in the next few days. Thanks for reading leave a comment below if you went, what was your favourite one?
Links
Winter Lights – https://canarywharf.com/arts-events/events/winter-lights-jan-2020
Flickr – https://www.flickr.com/photos/alalchan/albums/72157712702844542
Instagram – http://www.instagram.com/alalchan
Twitter – http://www.twitter.com/alalchan