The Winter lights are back on in Canary Wharf just in time to kick out those winter blues. On a very cold evening with a biting wind I ventured out with a few friends to take some pictures of the lights. There are over 30 installations spread out over Canary Wharf.
My favourite installations are listed below, with a bit about the artists. Lots more photographs can be found on Flickr.
Leave a comment below and let me know your favourite installation. Sign up to my latest newsletter with information on events that I will be going to in the next month.
Light Bubble
Right outside Canary Wharf tube station is a bubble, that when touched will emit sound and light, from 256 pulsating leds. Produced by an Australian company Eness who mix art, technology & fun.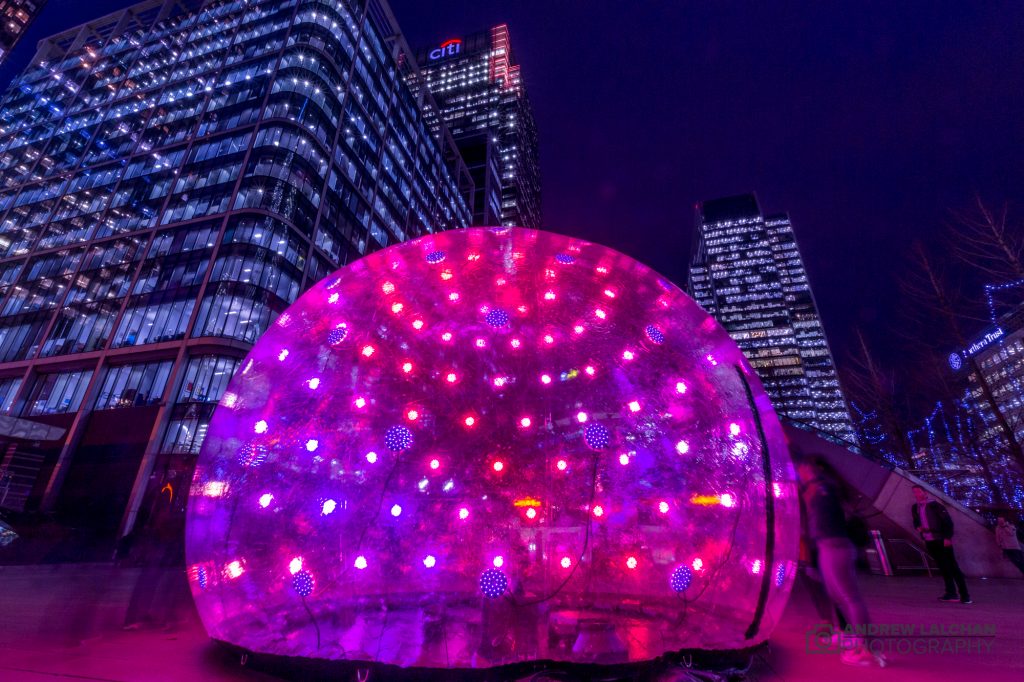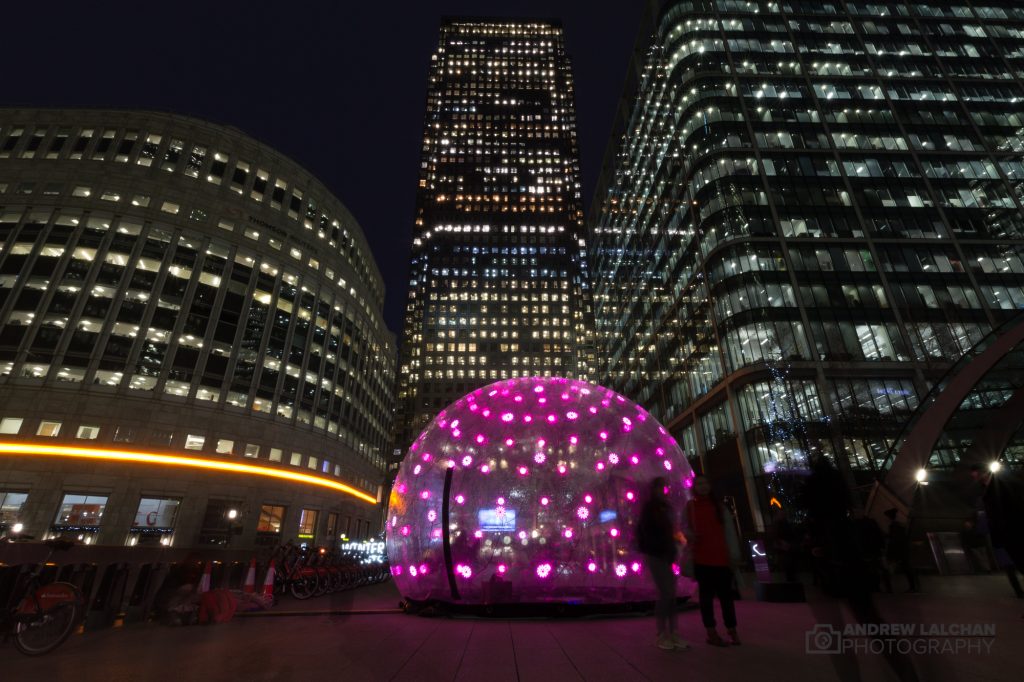 Halo
Halos are an optical phenomenon produced by light interacting with crystals in the atmosphere recreated here to delight and uplift. In this piece the Halo refers to the sun as our greatest source of light and warmth, shaping the conditions for life on our planet.
The lights spin around the disc, my photograph is a long exposure of 8 seconds with my purple night time filter.
Designed by a Dutch company, VENIVIDIMULTIPLEX who specialise in epic designs.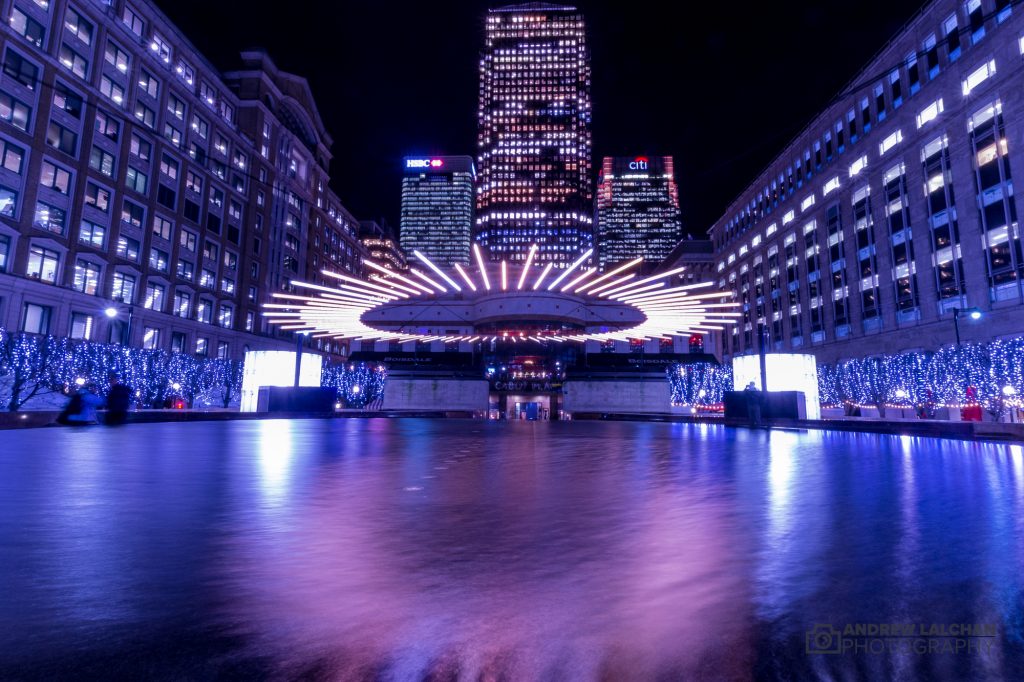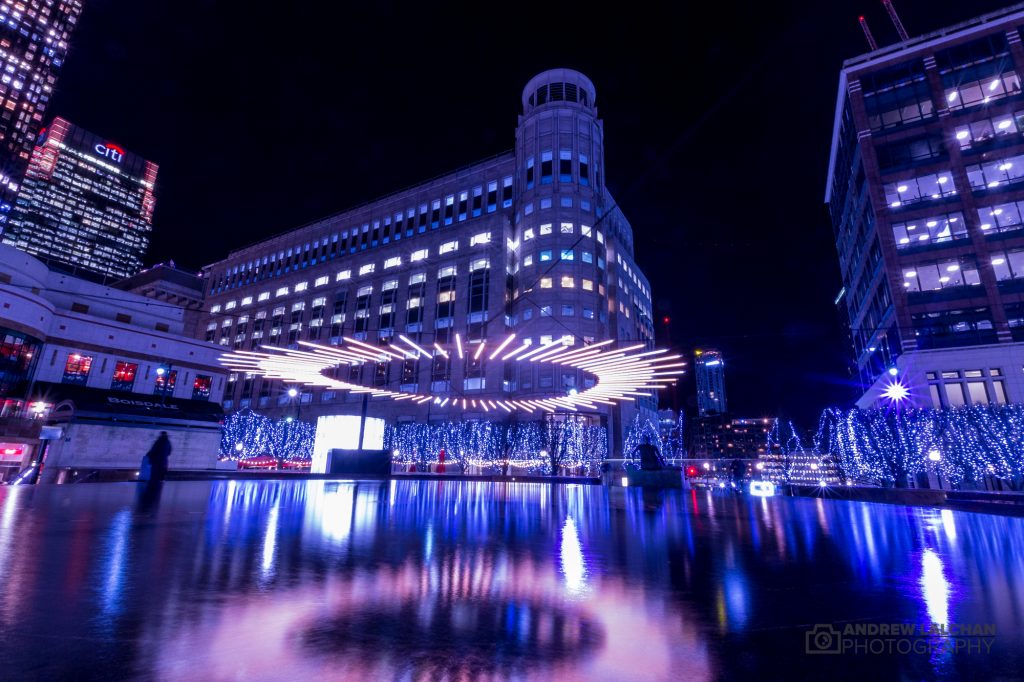 Dodecahedron
Step inside this jewelled pentagon structure in the day and you experience the glow of the natural light creating a kaleidoscope of purples, pinks & blues. At night it becomes lit by led lights creating a disco effect.
Produced by a UK company called Amber Lights who produce art installations and interior lighting.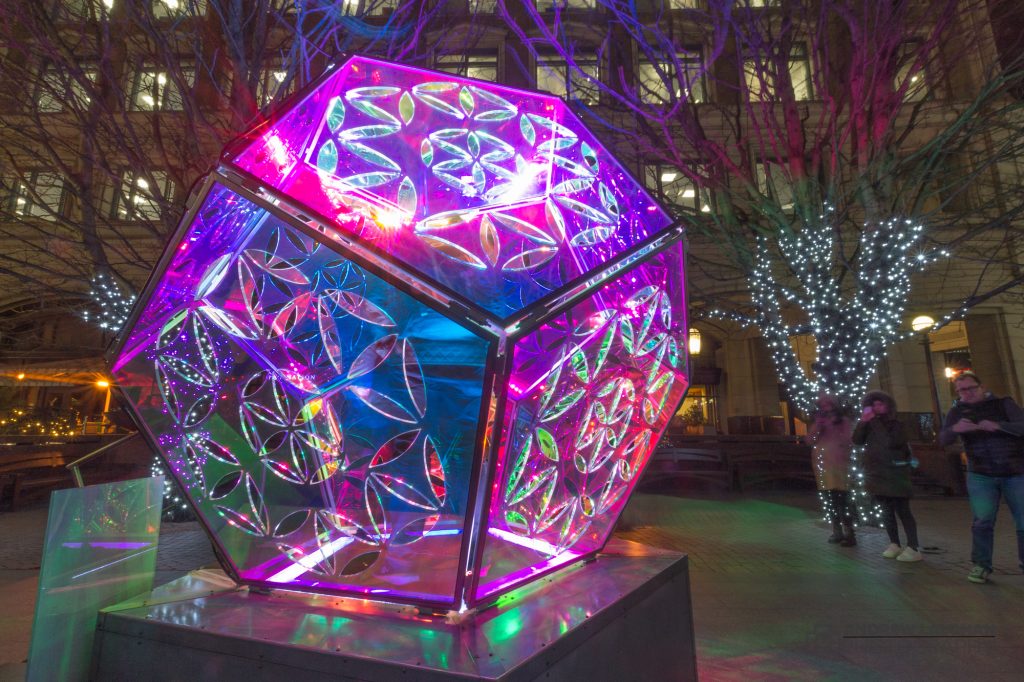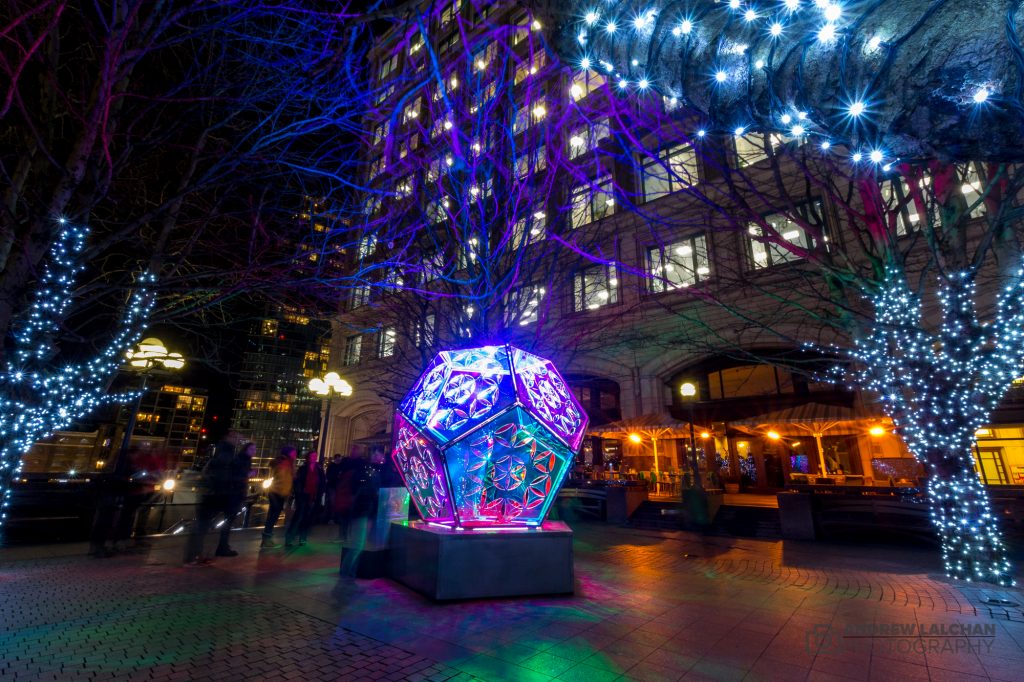 Selected Works
A selection of colourful and sensory artworks made from acrylic and wood, creating shifting patterns of iridescent rainbow colours. They shimmer giving a wide rainbow spectrum with metallic, bronze and gold. It reflects some light waves and refracts others, similar to the effect on dragonfly wings or peacock feathers.
Produced by a UK company called Amber Lights who produce art installations and interior lighting.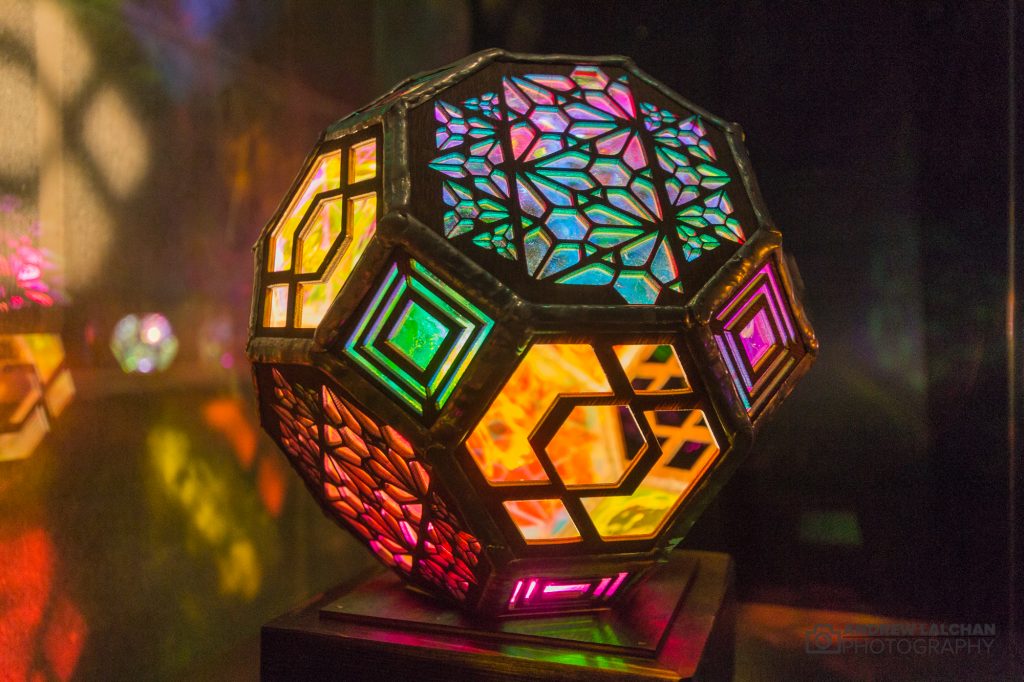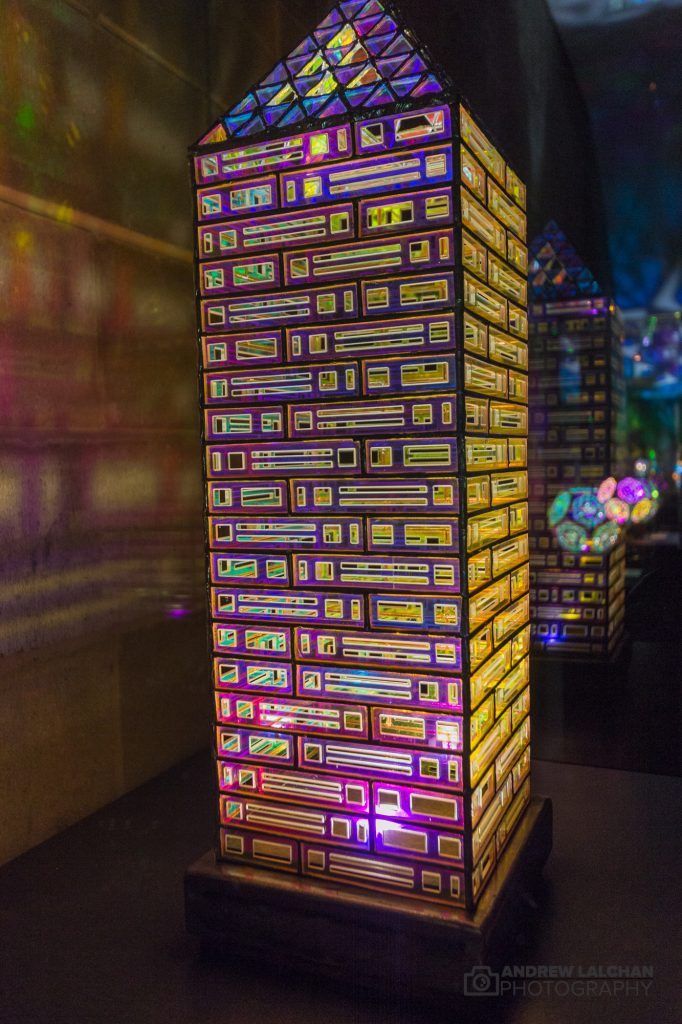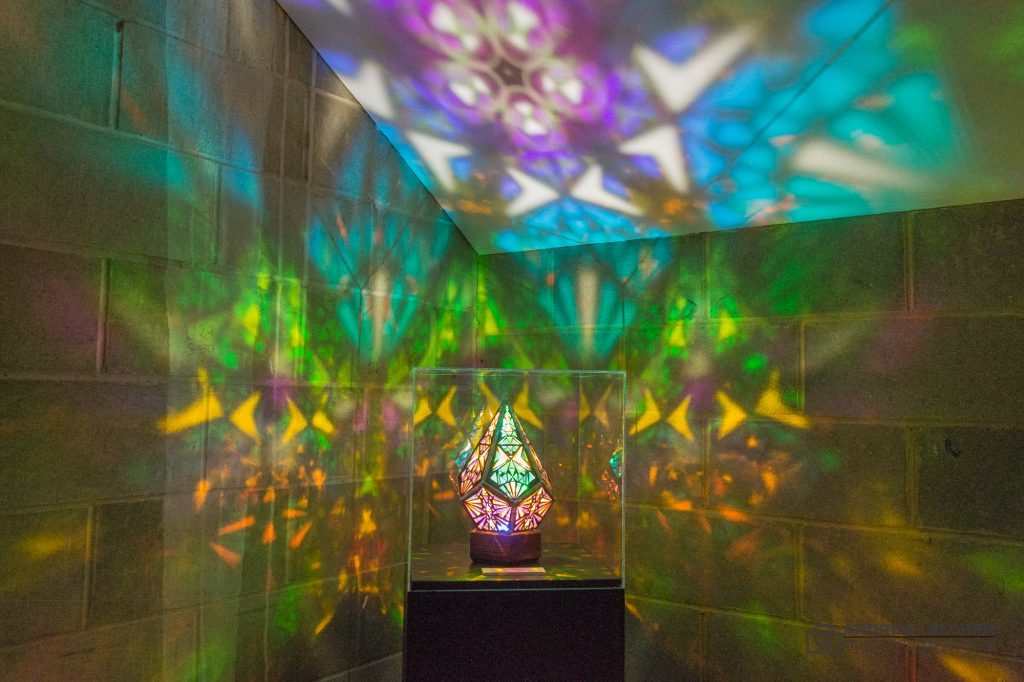 Reflecting Holons
These beautiful bubbles which expand and retract like oil droplets to the sounds around. Jetske Visser and Michiel Martens call the mesmerising objects they stumbled upon by experimenting with reflecting materials HOLONS.
Produced by a dutch company Martens Visser they are influenced by nature to create dynamic installations.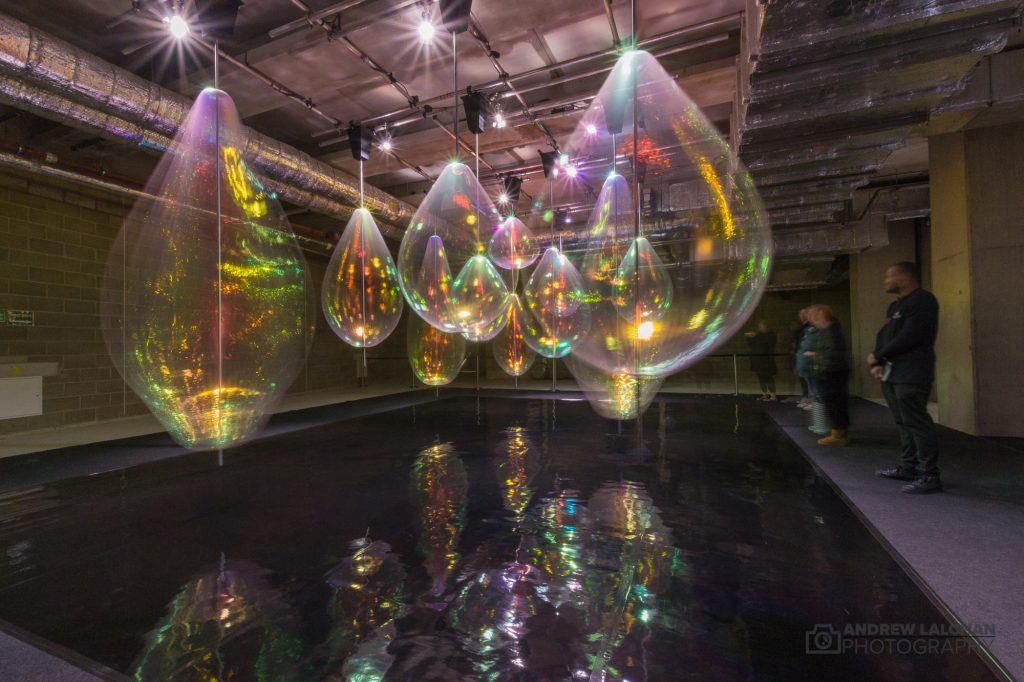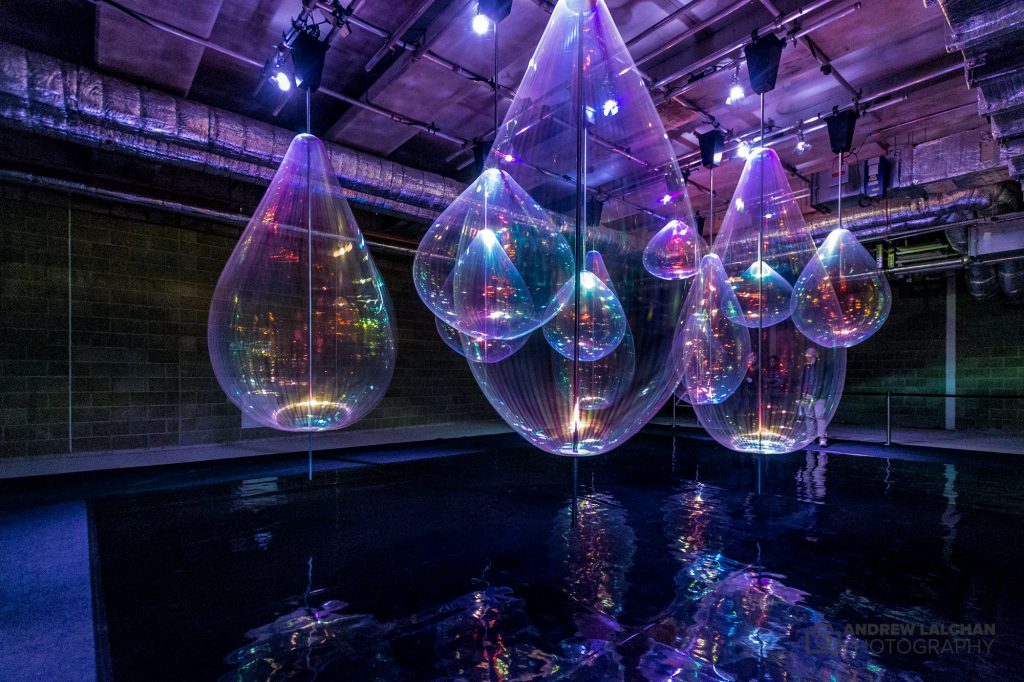 Getting there / Dates
Its easy to get there either on the DLR or Jubilee line with all the installations a short walk. After 5pm you will find guides who will hand out maps of all the light installations. The lights are turned on at 5pm till 10pm and it runs till the 27th January, so plenty of time to get down there.
Thanks to Timeout London for featuring some of my Photographs here
Links
Flickr – httpss://www.flickr.com/photos/alalchan/albums/72157689496218352
Instagram – httpss://www.instagram.com/alalchan/
Winter Lights – httpss://canarywharf.com/arts-events/events/winter-lights-2018/