The Queen's Platinum Jubilee Trooping the Colour
It's day one of the Platinum Jubilee and it was the Trooping the Colour on the Mall in the morning. What a lovely day to spend in London with hundreds of thousands of people, celebrating seventy years on the throne for Queen Elizabeth II.
Up bright and early to catch the 6.48 train into Euston from Watford. It was surprising to see a lot of people on it dressed up in Union Jacks that early. In no time I was at Greenpark station at 7.24 am, a superfast time from Watford. It's great when the trains run on time!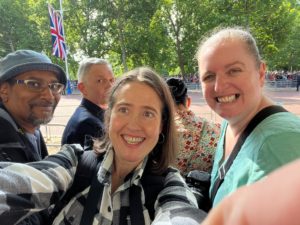 Heading into the Mall took a bit longer as the pathway from Greenpark station was closed but finally made it to a great location. Fortunately one of my friends I was meeting had bagged a good spot. Cheers, Paula 🙂
There were a lot more people who came out earlier than in previous years. Thankfully there was no rain but it was chilly at first and it soon heated up. It now felt like summer in the hot sunshine.
Parade begins
A little after 10 am the parade started, but there was a protest at the beginning for Animal rights. Around seven people protested but they were soon tackled and handcuffed to great cheers from the crowd. They are protesting about the bearskin hats that the Queen's guards wear.
The event features a military parade with over 1,400 soldiers, 200 horses, and 400 musicians. It is an impressive display of pageantry and tradition.
The Queen then inspects the Guard of Honour at Horse Guards Parade. She then leads the Royal procession back to Buckingham Palace, where she takes the salute from the balconies. But this year due to her unsteady walking she didn't inspect but left this to Prince Charles.
It was a great event to watch and I'm so pleased I got up early to see it. It's my eleventh time here in person at the Trooping the Colour. The last one was on the Queen's 90th birthday.
The RAF flypast began at one o'clock and was amazing as usual. I loved the 70 with the typhoon jets. I managed to capture some good shots.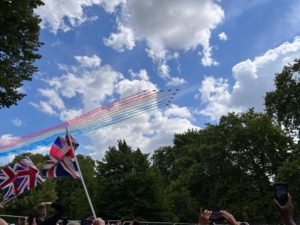 Another view of the red arrows from Jon a friend close by.
Next was lunch at Pret and then headed to Trafalgar Square where you can sit and take photographs of the people all dressed up. Before heading back to Watford for the Jubilee beacon being lit at 9.45pm in Watford Museum.
Platinum Jubilee Beacons
Over 1,500 beacons were being lit throughout the United Kingdom, Channel Islands, Isle of Man and UK Overseas Territories. In 1897, beacons were lit to celebrate Queen Victoria's Diamond Jubilee. In 1977, 2002 and 2012, beacons commemorated the Silver, Golden and Diamond Jubilees of The Queen, and in 2016 Her Majesty's 90th birthday.
I went to the Watford Museum where Deputy Mayor Aga Dychton and Luther Blissett took part in a beacon lighting ceremony tonight at Watford Museum. Congratulations to Luther Blissett who was recognised by the Queen today with an OBE.
Songs were sung by the North London Military Wives Choir.
Photos
Here are some photographs I took on the day with loads more on my Flickr link below.
Trooping the Colour
Watford Museum Jubilee beacon
Jubilee hashtags to use are #HM70 and #PlatinumJubilee
Thank you for reading, did you go down to the Mall for Trooping the Colour? Be sure to sign up for my newsletter to receive an email with the latest events.
Links
Below, you will find some links to my photographs.
Platinum Jubilee for Photographers