A brilliant new exhibition opens at the Tate Britain on the 7th July, displaying one of the most comprehensive retrospective exhibitions of the Portuguese artist Paula Rego. This is a beautiful exhibition, telling her life story through her work and the socio-political context. The layout and curations are excellent, you get the feel of her work. So this is a must-see exhibition if you love art. This my first time discovering her amazing art and I learnt a lot about her and the inspiration of her creativity.
There are eleven themed rooms covering different aspects of her work over 60 years. Comprising of 100 of her works ranging from paintings, pastels, collages, drawings and etchings. Seventeen of the works have never shown in the UK before. The exhibition runs till 24th October 2021 at the Tate Britain.
Who is Paula Rego?
Paula Rego was born in 1935 in Lisbon, Portugal and is known for her figurative art, and she revolutionised the depiction of women in art. She lived under a dictatorship, which lasted until 1974 in Portugal. An authoritarian regime that suppressed political freedom and limited the rights of women. Her parents wanted her to live in a liberal country so they sent her to Kent, England at the age of 16. Between 1952 and 1956 she studied painting at the Slade School of fine art in London. She met and later married her fellow painting student Victor Willing. She lived between Portugal and England after she graduated and then settled in London in 1972 where she resides today.
A Subversive Vision
Her early work takes inspiration from her experiences growing up in Portugal. She addresses the abuse of power and starts to make women's stories more visible. She started working with abstracted and visceral bodily forms in the 1960s. The first room covers this period, parading the grotesque nature of the Portuguese dictatorship and the brutality of its colonial occupations.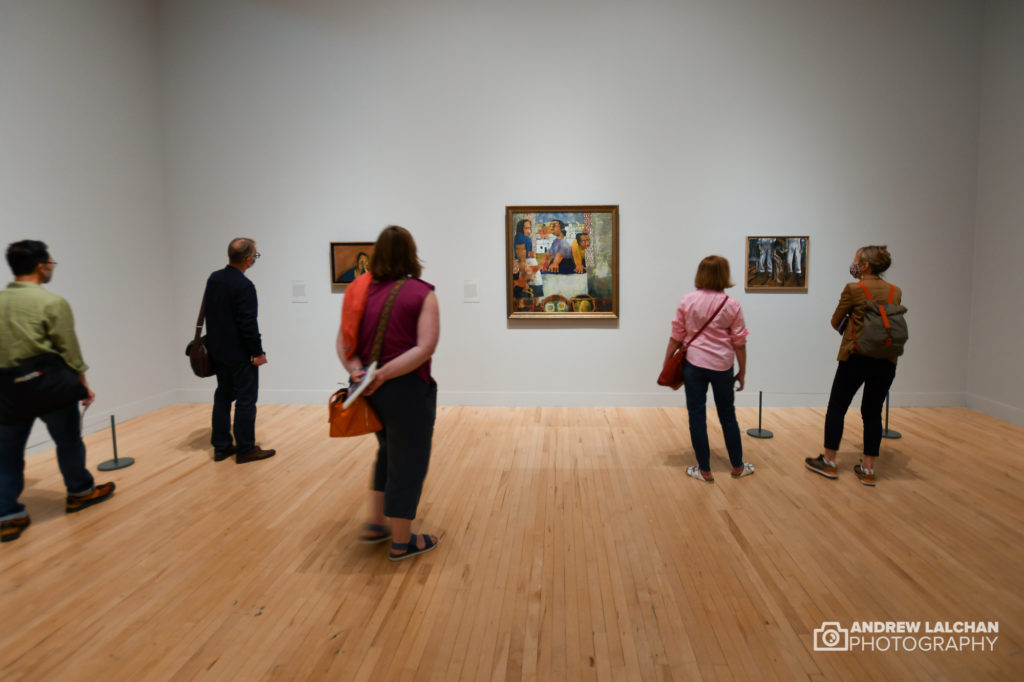 Fragmented Reality
Between 160 and 1970, Paula Rego produced mainly collage-based works. She began the process by making drawings. She would cut these up, glue fragments of them on paper and then add layers of paint and other drawings. She continues the surrealist's tradition of combining fragments and mixing fine art and popular culture.
Her inspiration came from a wide range of sources; "caricature, newspaper articles, street events, proverbs, children's songs, wheel dances, nightmares, wishes, fears"

Paula Rego in 1965
In 1974-5 she produced a series of illustrations of Portuguese folk tales.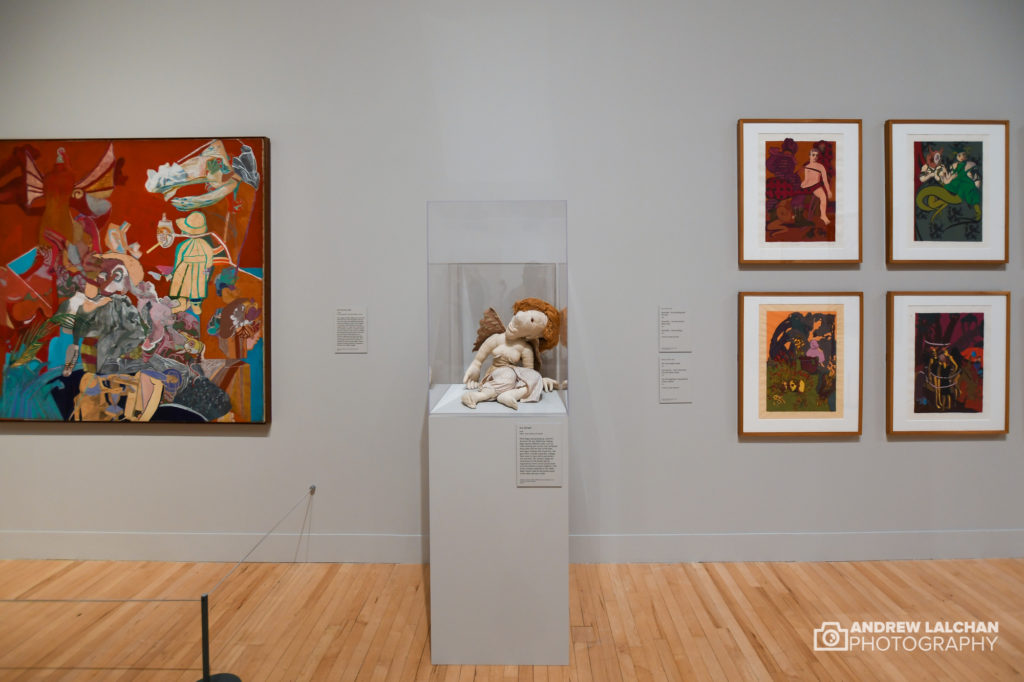 Fantasy and Rebellion
In the 1980s is when she started producing her colourful paintings and where she becomes a contemporary painter. She combined her childhood memories with her experiences of a woman, wife and lover. In 1984 she created a series of paintings called Rego's girls. They revolt against coercive social norms and express female sexual desire.
Love, Devotion, Lust
Rego completed a group of large paintings in acrylic between 1986 and 1988, they have been reunited for the first time since her Seperntine show over 30 years ago. One of them she hadn't completed so this is the first time all of them are together exactly how she hand intended it.
In these paintings, she addresses personal events, particularly her relationship with her husband the painter Victor Willing. He had multiple sclerosis and died in 1988 as she was working on The Dance.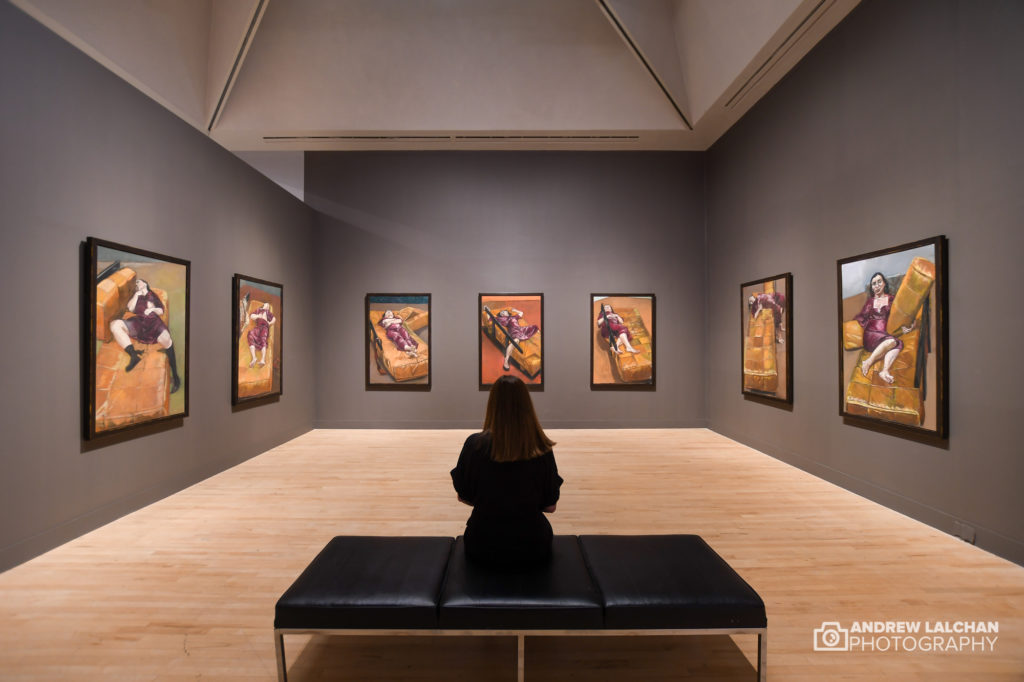 Characters at Play
Paula Rego had a fascination for turning stories into paintings. In the 1990s she had a very productive period, her paintings explore adults cruelty and children's wildness as they run away and embark on dangerous adventures. If you look at her paintings there are lots of hidden parts that you might miss at first.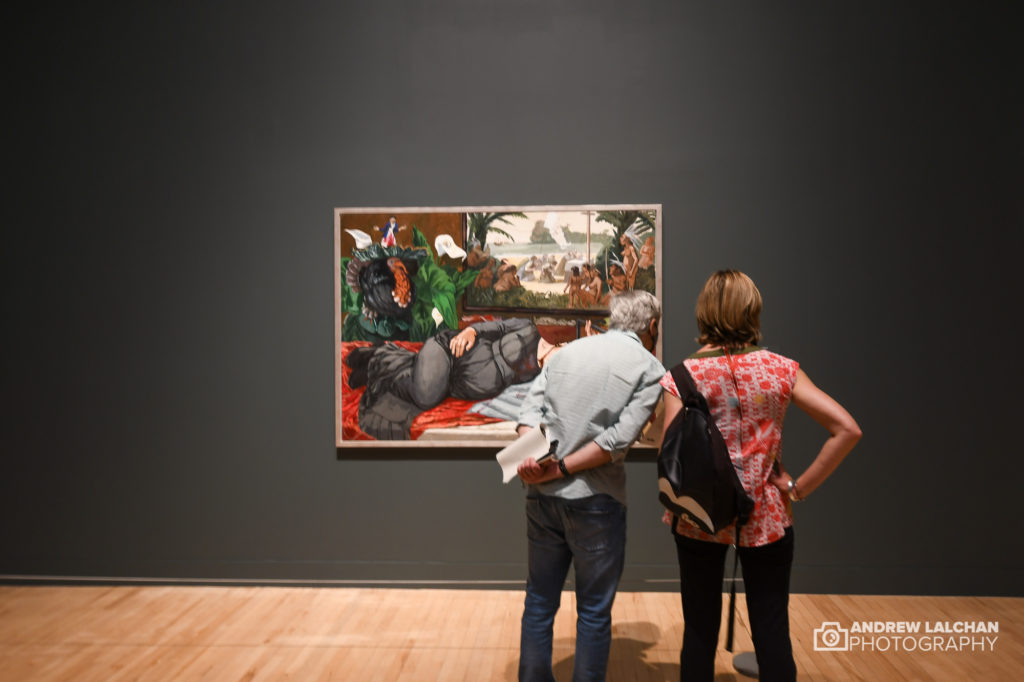 Infiltrating Art History
In 1990, she became the first artist in residence at the National Portrait Gallery, London. She went on to produce some works which reinterpreted mainly male artists who had depicted a world shaped by men, for men. Some of these painters included Carlo Crivelli, William Hogworth and Diego Valazquez. She inserts female characters and then gives a visual representation of the experience of women.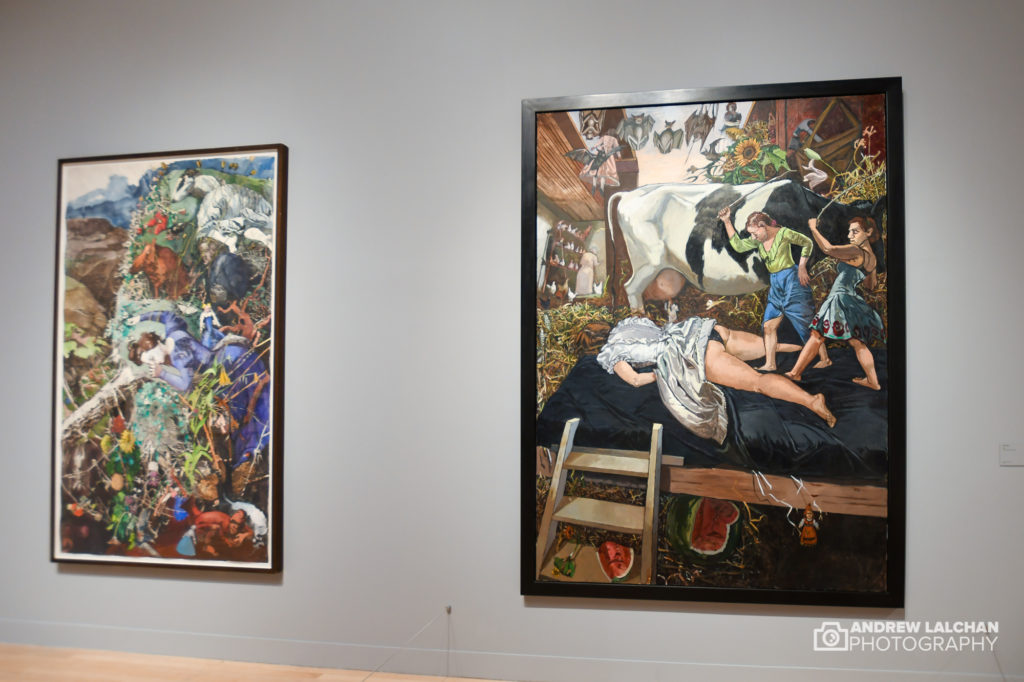 Stories of Women
In 1994, she created large pastel works of single, female figures. The woman is physically strong, they might be desperately in pain or fiercely independent. She started using pastels which she liked the hardness and the ability to build it up and scratch through.
"Compared to a brush, the stick is fiercer, much more aggressive"

Paula Rego
In the dog woman series, Lila Nunes was her main model. She collaborated with her and wasn't just a sitter.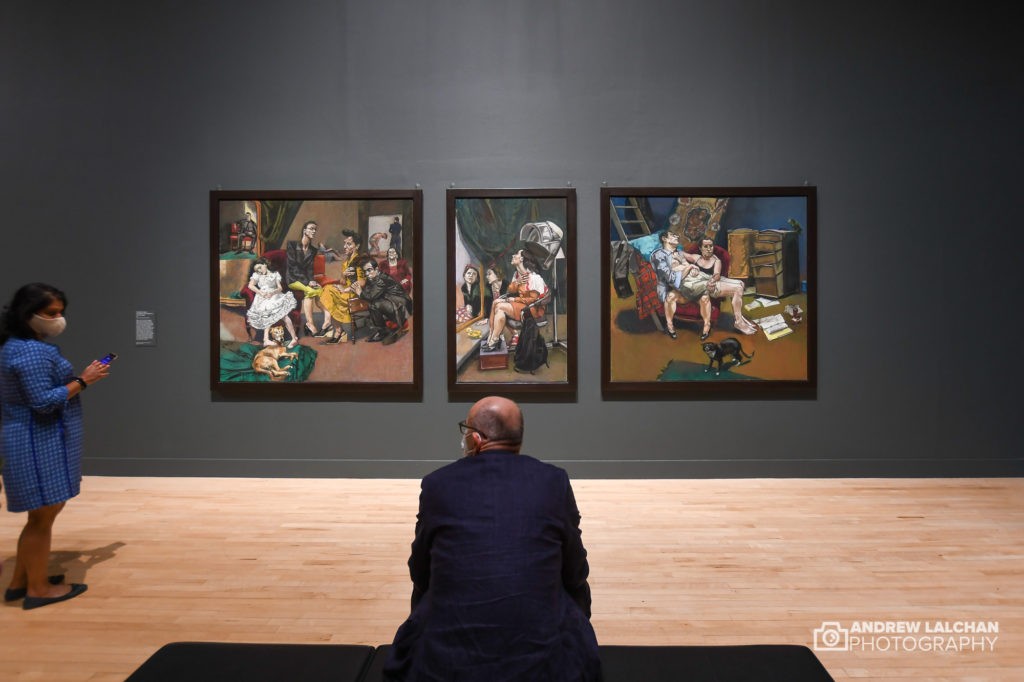 Coercion and Defiance
Fighting injustice was her big cause throughout her career especially historically enabled abuse to women. In the 1990s she created two influential series of works. One of these was the "Father Amaro" series, which was inspired by the Portuguese realist novel called The Crime of Father Amaro 1875, by Jose Maria. Rego portraits the women as victims of men's abuse of power.
The second series was untitled pastels that depicted women in the aftermath of abortions that they had to undergo illegally.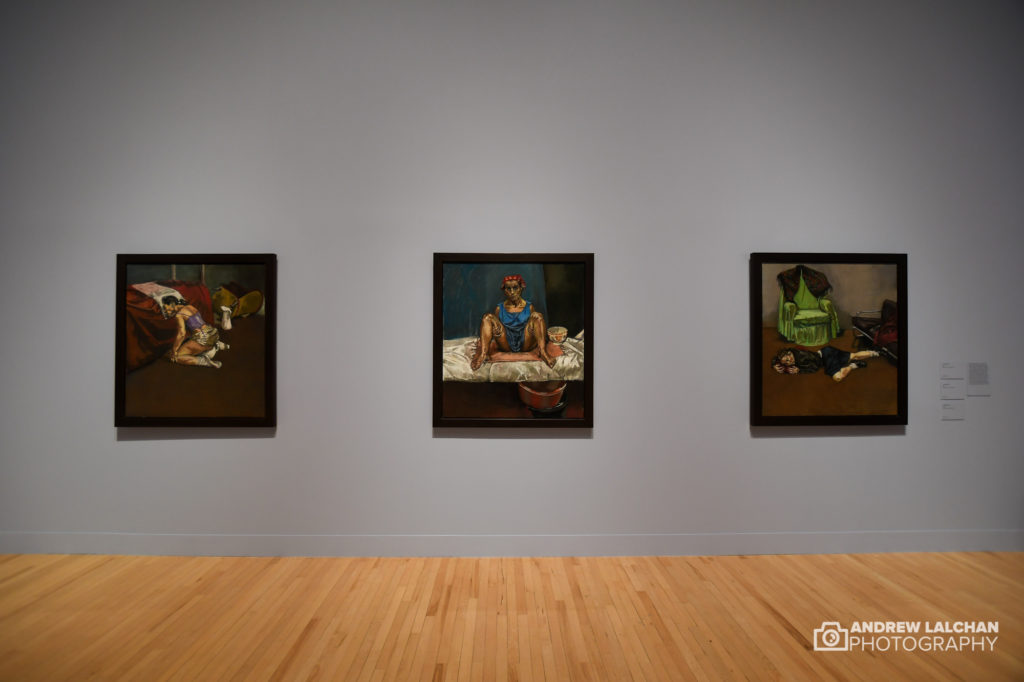 Possession
Rego created a series of large pastels in 2004, they depicted her model Lila Nunes in a wide range of psychological conditions. Inspired by the 19th-century photographs of medical lectures. She was also portraying the similarities of Roman Catholic religious paintings of female saints.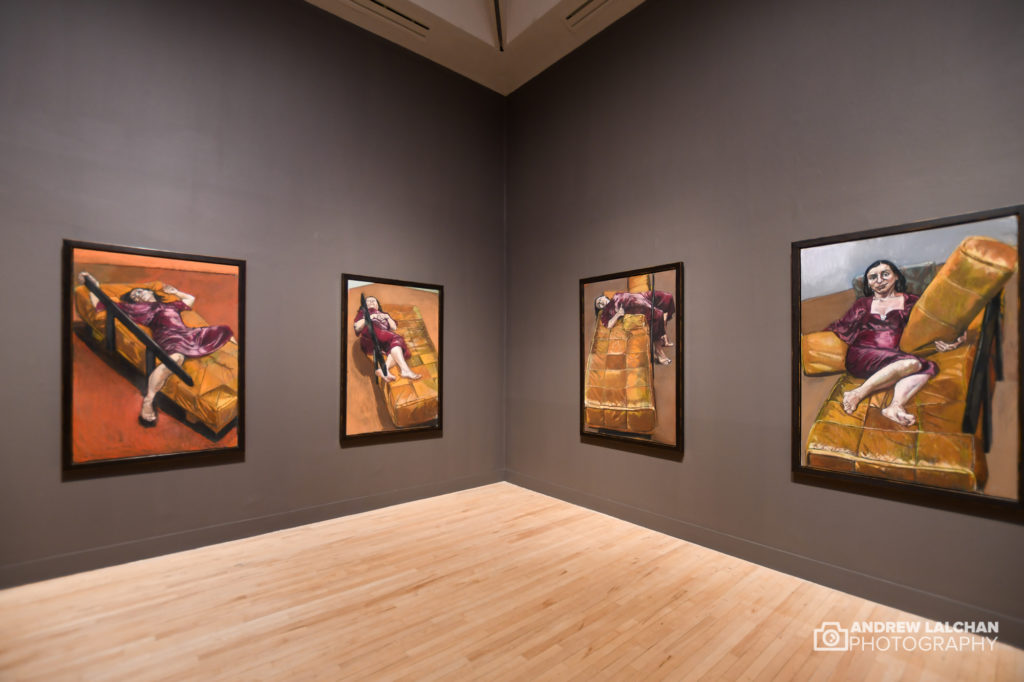 The Theatre of Life
Sculptures in textiles, paper mache and other materials Rego refers to them as "dollies". She has been making them since the 1960s, but since the 2000s they have become prominent characters for her.
I found that I got very involved in making props, in fact, creatures which I use as if they were people. They are people to me. And I find that more and more I am interested in doing that. Creating these creatures. And I mix them with people. I find it is quite important to have a person in there because it somehow emphasises the difference, and makes it more mysterious.

Paula Rego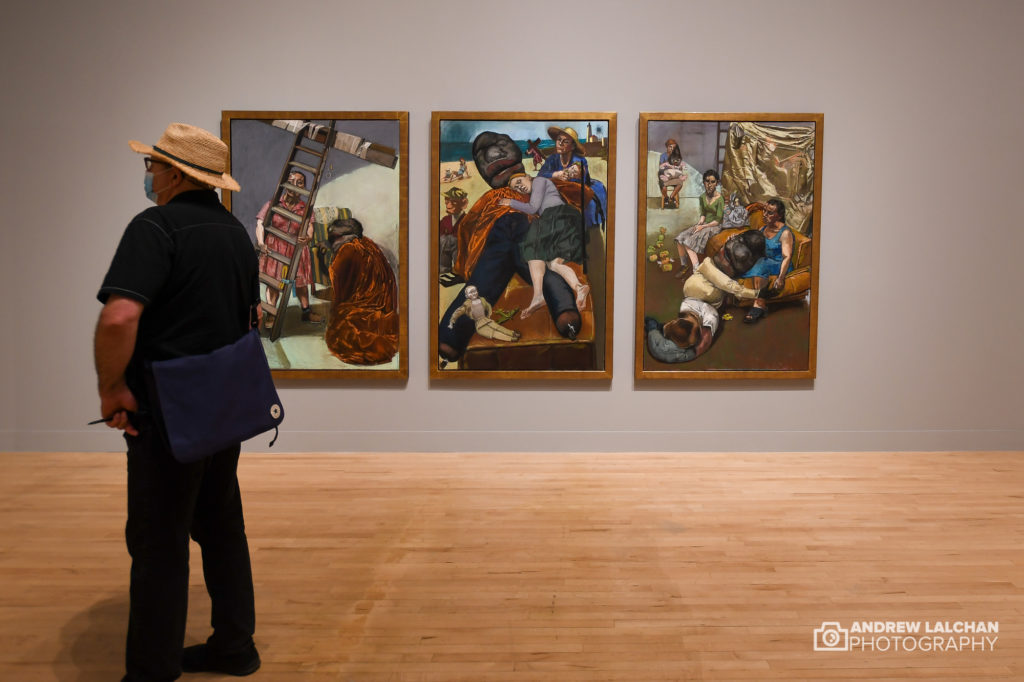 The Pain of Others
This room is the works of Rego where she addresses different forms of abuse to women and children. Stories that she saw/heard in the news, giving visibility to the pain of others.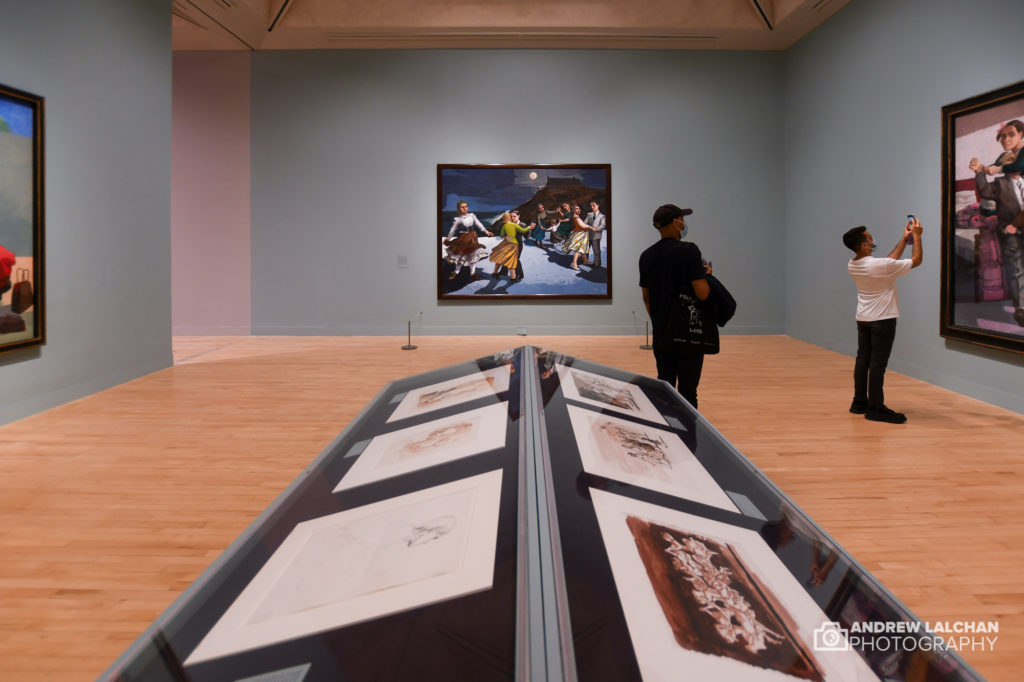 How to get there?
The best way to get there is via the Victoria line (underground) to Pimlico and then a short 5 – 7 minute walk which is clearly signposted. The exhibition costs £18 and it's free for members.
Photographs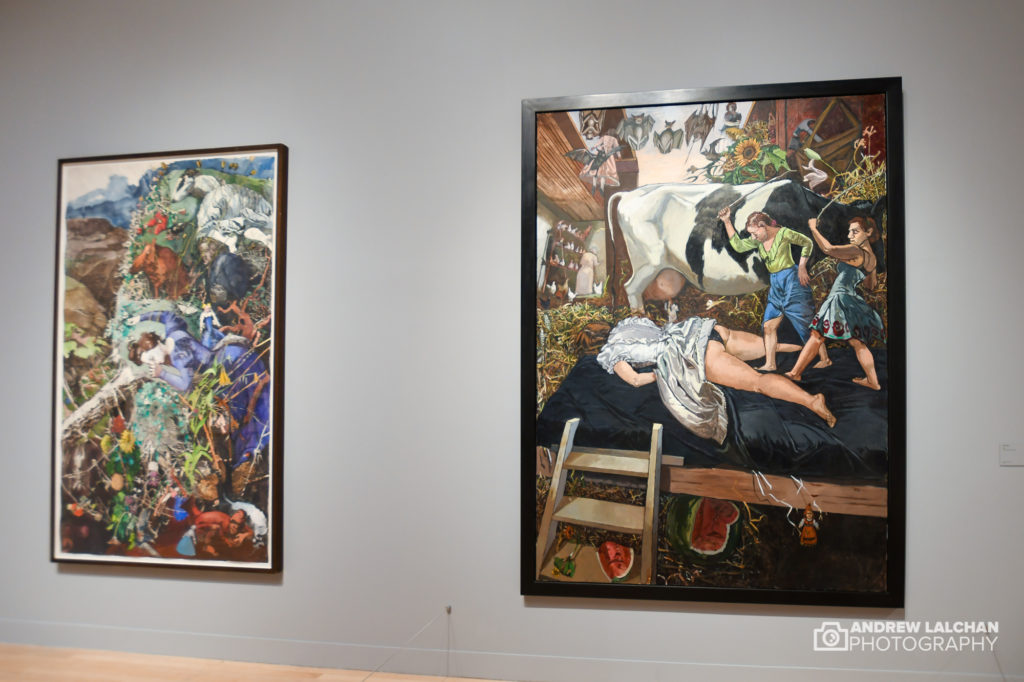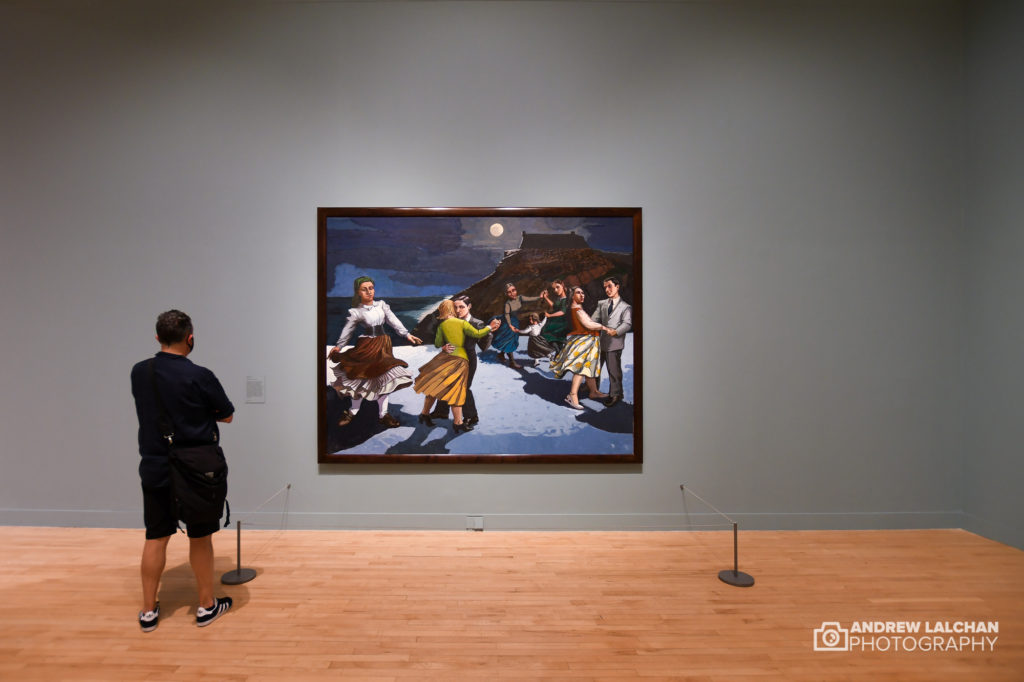 More photographs can be found on the flicker link below.
The Paula Rego exhibition runs from 7th July till 24 October 2021 at the Tate Britain. Curated by Elena Crippa with Zuzana Flaskova. Photos were taken at the media preview event on the 5th of July.
Thanks for reading; leave a comment below if you have been to the Paula Rego exhibition. Sign up for my newsletter for the latest events happening around Watford, London and the South East each month.
Links
Tate Britain – https://www.tate.org.uk
Alamy Photo Agency
Flickr Photos – https://www.flickr.com/photos/alalchan/albums/72157719500006113
Instagram – http://instagram.com/alalchan
Twitter – http://twitter.com/alalchan