Summer is here and what better way to experience some art than by going on a sculpture trail along the streets of Mayfair. The trail is back for its 2nd year, giving an immersive art experience from Grosvenor Square to New Bond Street. Between 2nd and 27th June 2021, there are seven new temporary sculptures from various artists with 22 in total.
The galleries around the area commission the sculpture pieces together with the permanent art to create the trail. Below I go through some of the new sculptures together with information about the artists.
---
#9 Blue & White Infanta Margarita by Manolo Valdé
My highlight is the resin women in Barclay Square called the Blue & White Infanta Margarita, on the preview I saw it being installed. With its huge weight and awkward shape, they finally got it in place. Majestic looking with the blue and margarita resin which in parts are transparent and look great sparkling in the summer sun.
Designed by Spanish artist Manolo Valdé who is a contemporary painter, sculptor and draughtsman. He has developed an individual style taking from old masters and revitalizing them to create his own work. The two ladies came from Spanish painter Diego Velázquez who painted in 1659 the Infanta Margarita Teresa in a blue dress.
Gallery : Opera Gallery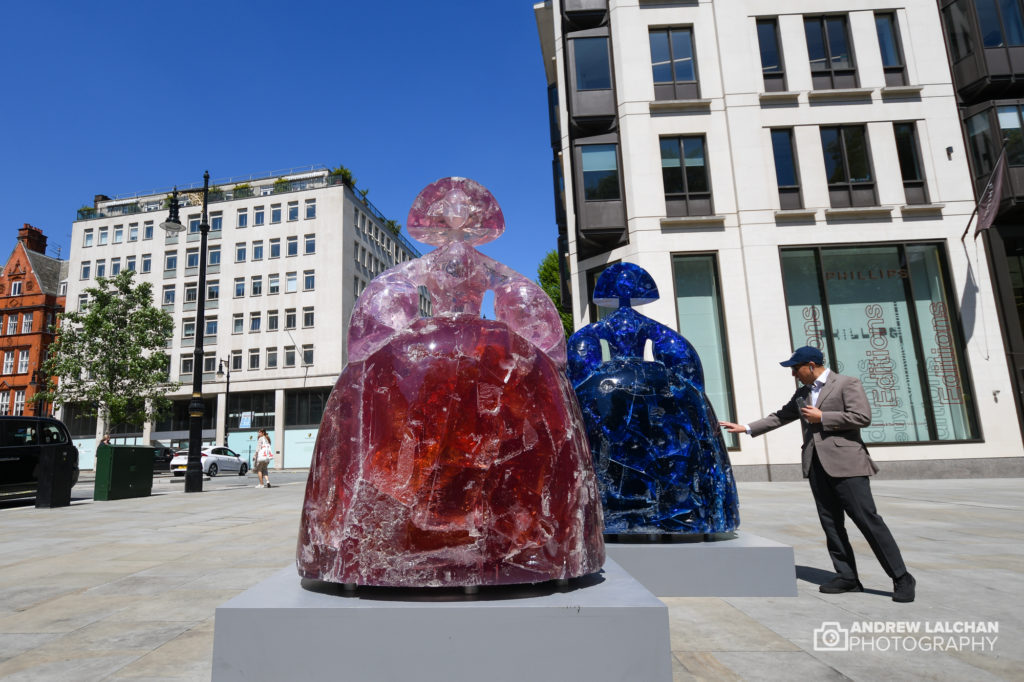 ---
#13 Alien 2 by David Breuer-Weil
How we treat strangers and view outsiders is the motivation behind the sculpture by David Breuer-Weil. An alien figure upside down, genderless with human physic has landed in New Bond Street. This magnificent sculpture is made out of bronze and is hard to miss. Designed by the leading contemporary British sculpture artist. He is well known for his artistic works all across London.
Alien 2 sculpture encourages us to question what we might think if we came across an otherworldly creature in central London.
Gallery : E&R Cyzer Gallery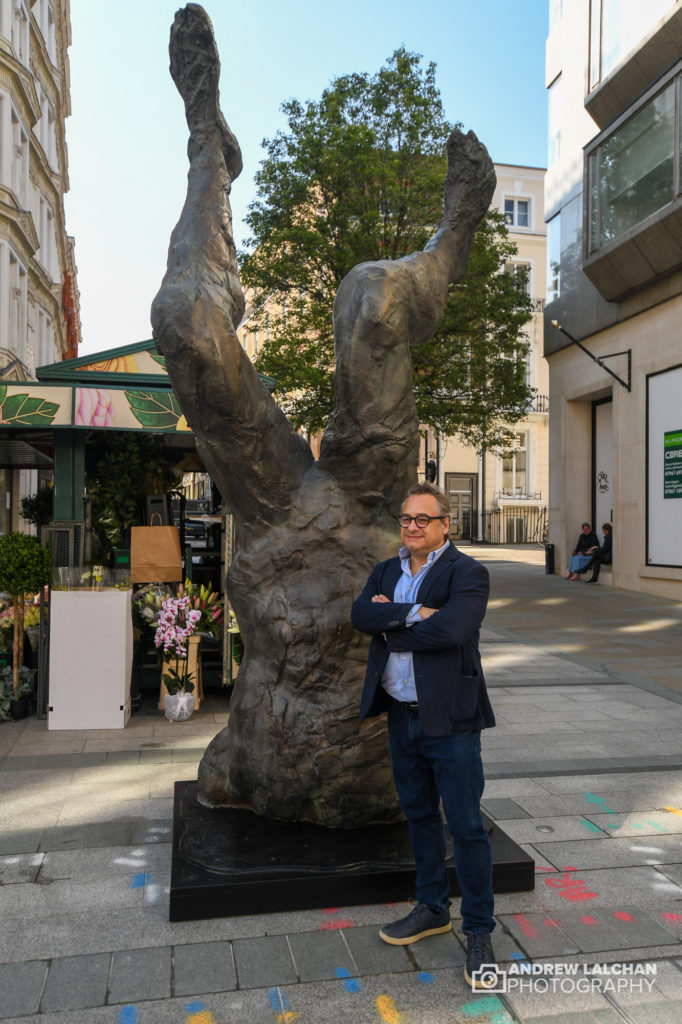 ---
#7 Origin VI by William Peers
This magnificent marble head weighing 1500kg represents everyone and no one at the same time. Designed by William Peers from his imagination, without using a model. It is abstract art, up close you can see the beautiful craftsmanship that has gone into it. It stands proud amongst the trees of Grosvenor Square.
I have not set out to carve a likeness of anyone…It is only when I stand back that I see someone. Someone new, or old… I realise that for me they seem timeless and take me back to the beginning of time. They could be from any era; race and gender unclear, shifting and ambiguous. I am also conscious that I am creating a statue, albeit a statue of no one in particular, in a time when the very existence of statues is in question.

William Peers
William Peers is a stone sculptor and began work on a series of heads at the start of the covid pandemic. It was not his usual work as he is known for his abstract sculptor work for the last twenty years.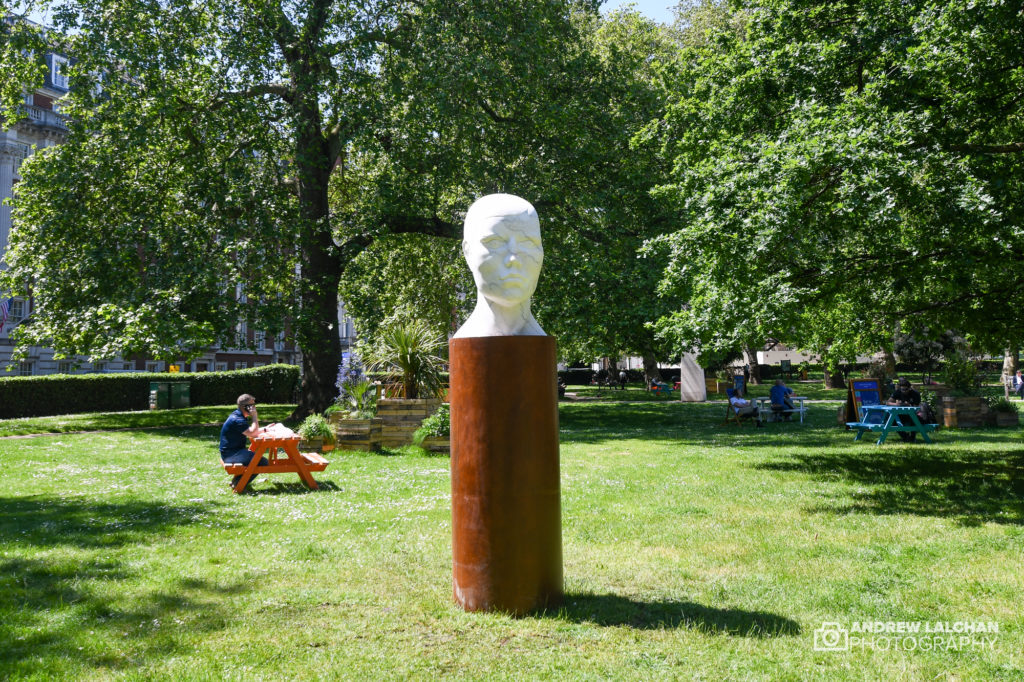 Gallery : John Martin Gallery
---
#21 Meditation 626 by Seo Young-Deok
Meditation 626 is an amazing face is made up of welded chains it represents the relationship between humans and the environment. Seo Young-Deok is a South Korean sculptor, he creates sculptures of human figures which represents life itself. The unfinished chains are like the emergence of cells being duplicated, unfinished DNA chains intentionally left. The welded chains are from industrial machinery and bicycles.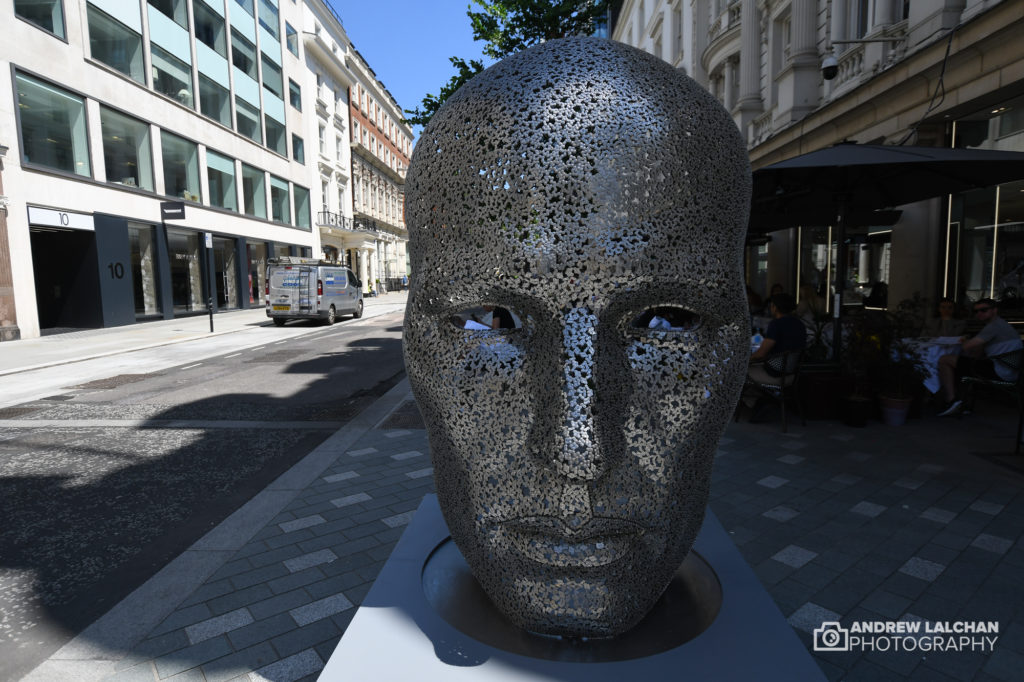 Gallery : Opera Gallery
---
#22 Ferrari 250 GTO By Anthony James
This statement piece of the most impressive iconic cars created in the 20th century. It is made out of copper and uses repoussé an old method of beating copper to get the desired shape. Anthony James is a British/American artist well known for his sculptures and monumental installations.
This chassis of copper is devoid of all its functions as a car. It represents the emptiness of materialism and captures the uncharacteristic state of motionless.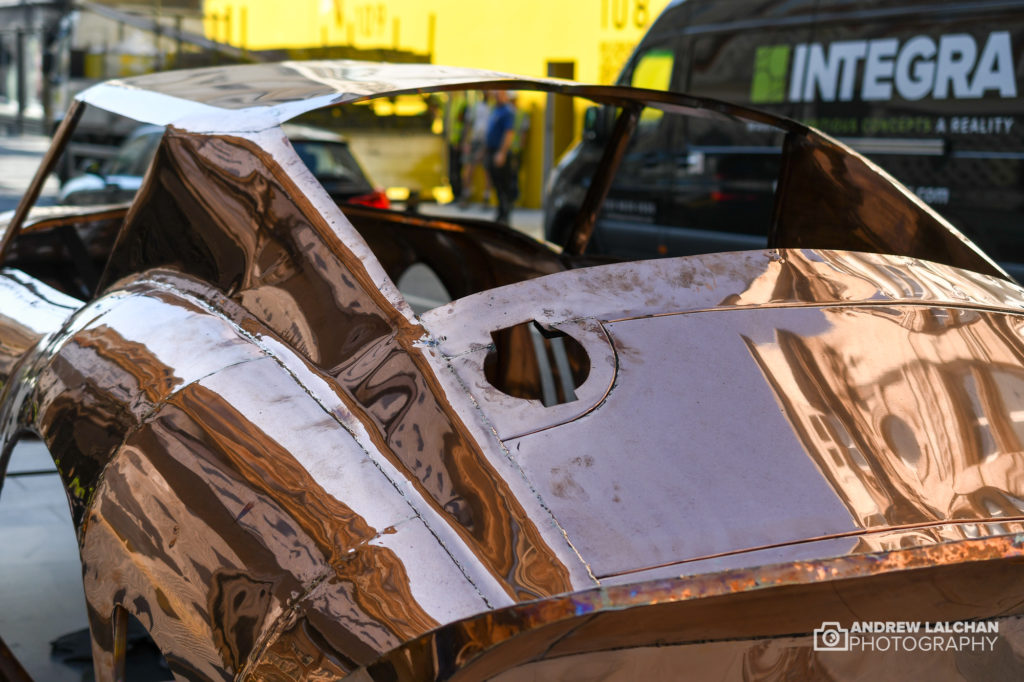 Gallery : Opera Gallery
---
#6 Ecstasy self-portrait no: 1 by Hande Şekerciler
Two conjoined nude figures are entwined in an expressive flow of movement. They are gender-less with no clothing, no labels. It stimulates us to ponder on our own personal prejudices and preconceived notions of sexuality. Hande Şekerciler is a Turkish sculptor who experiments with ideas of form and social issues. She is well known for her figurative forms.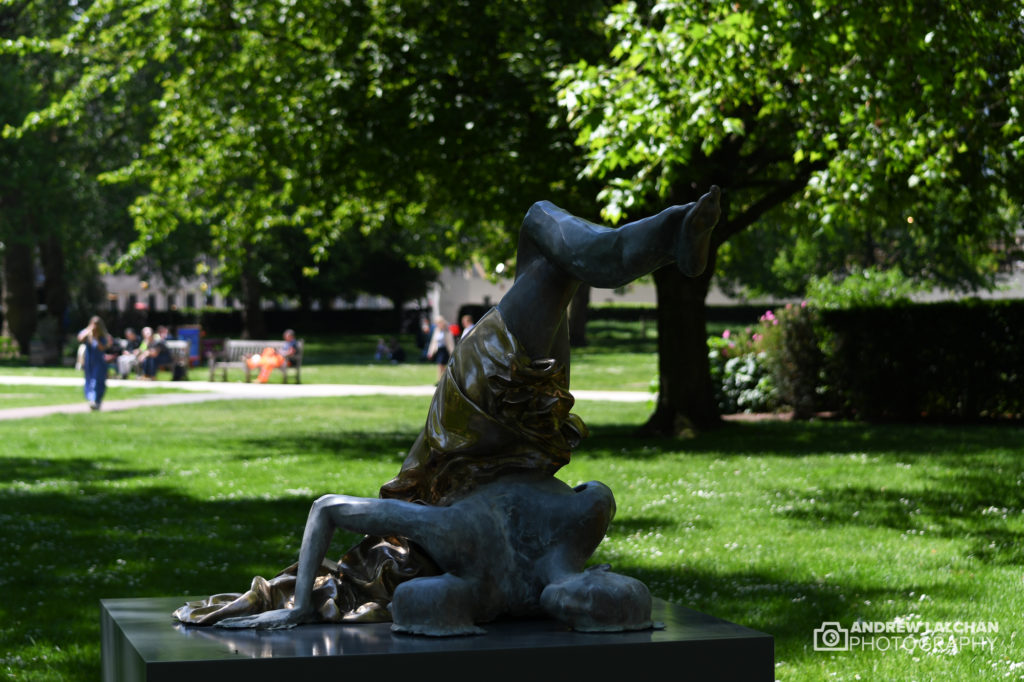 Gallery : JD Malat Gallery
---
Mayfair Sculptures Trail
The trail runs from 2nd till 27th June
Wild Lights by Fernando Laposse
Red Hot Contrasts by Julien Colombier
Watching You Grow by Margaux Carpenter
Room by Antony Gormley
See Through by Morag Myerscough
Ecstasy self-portrait no: 1 by Hande Şekerciler
Origin VI by William Peers
In Plants We Trust by Yinka Ilori
Blue & White Infanta Margarita by Manolo Valdé
Three Figures by Neal French
Falling Shopper by Banksy
Time-Life Screen by Henry Moore
Alien 2 by David Breuer-Weil
Alies by Lawrence Holofcener
Horse and Rider by Elisabeth Frink
Long Hair by Julien Opie
Cinch by Antony Gormley
Untitled bronze sculpture by Joel Shapiro
Spectral Stream mosaic by Antoni Malinowski
Handbag heads by Bruce McLean
Meditation 626 by Seo Young-Deok
Ferrari 250 GTO By Anthony James
---
How do I get there?
The easiest way is to go from Green Park station and head to Old Bond Street you will then come across #15 Horse and Rider by Elisabeth Frink. Here is a Google Map which lists them all so you can follow the trail.
---
Photography
Below is a selection of photographs I took on the launch, with lots more on my Flickr account below. Also, check out the audio guide narrated by Saskia.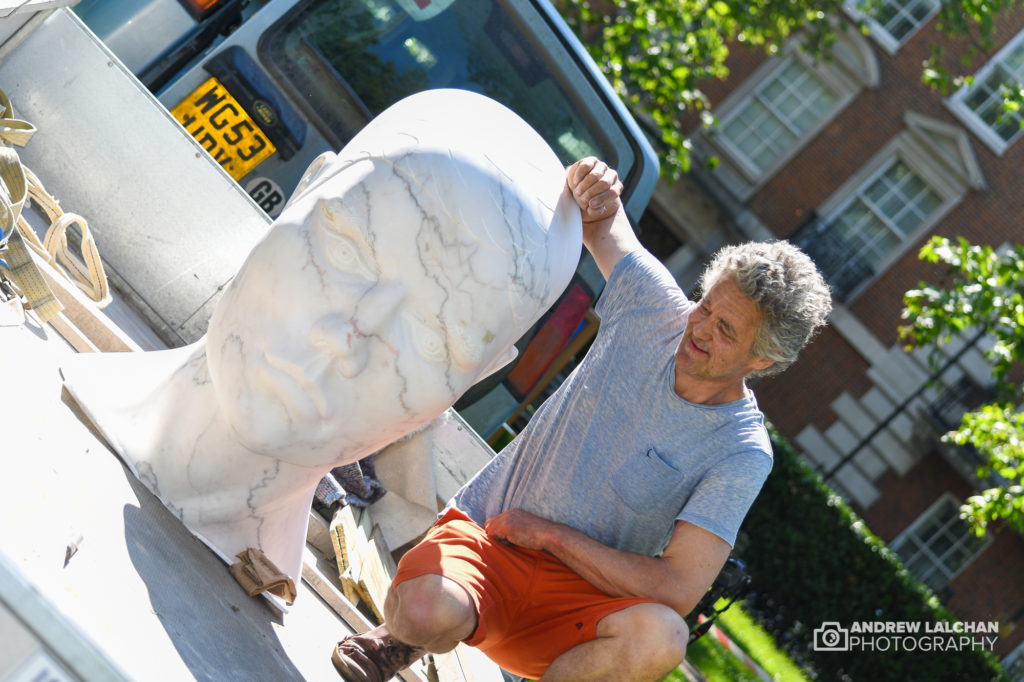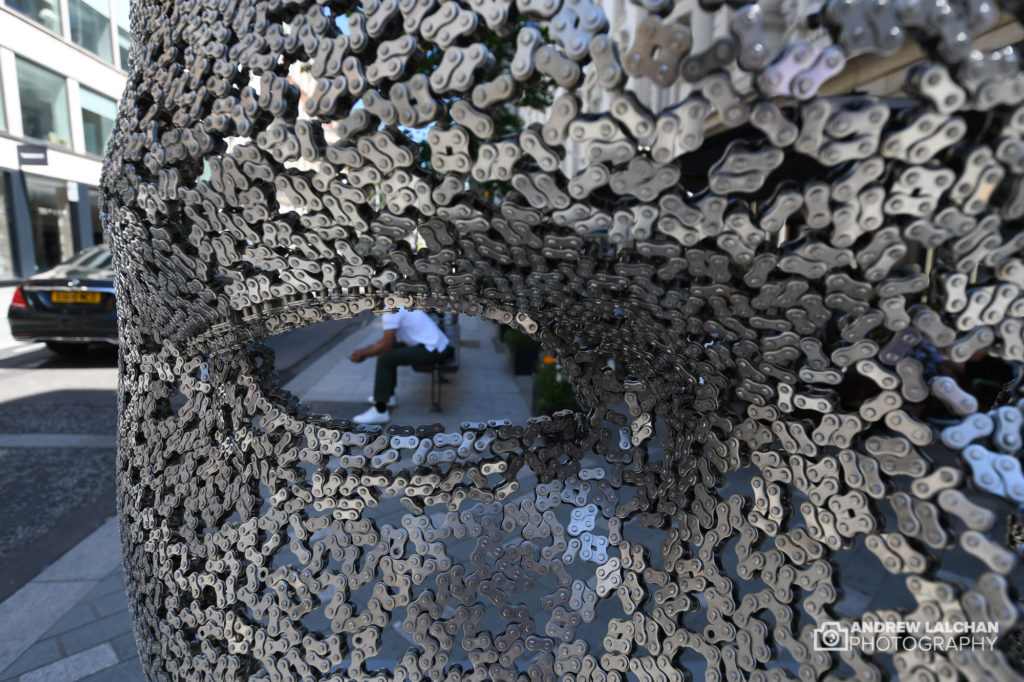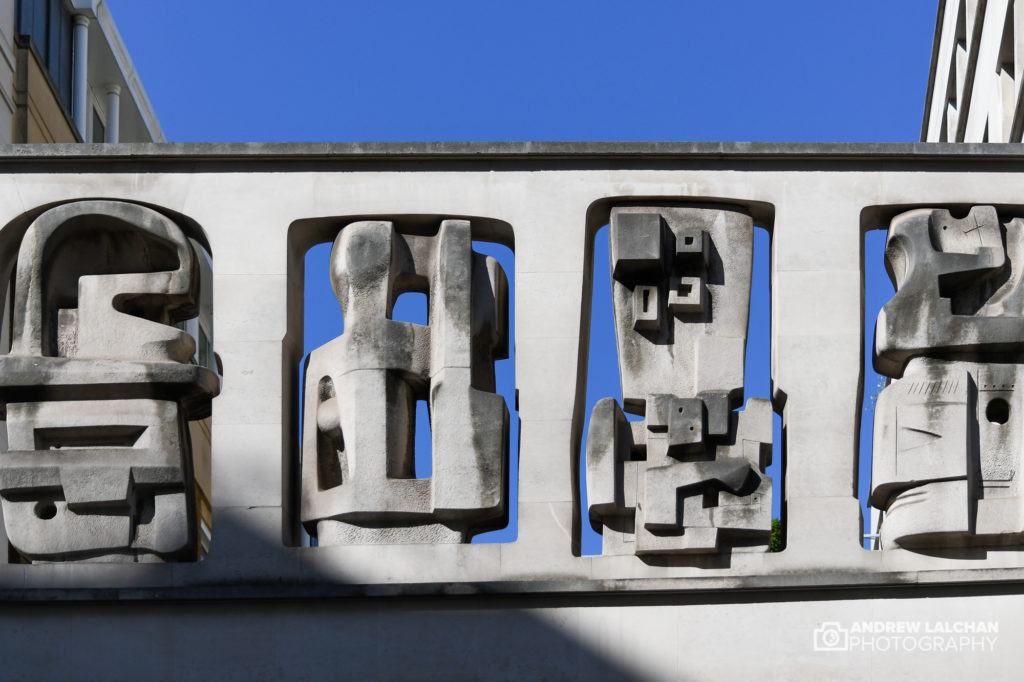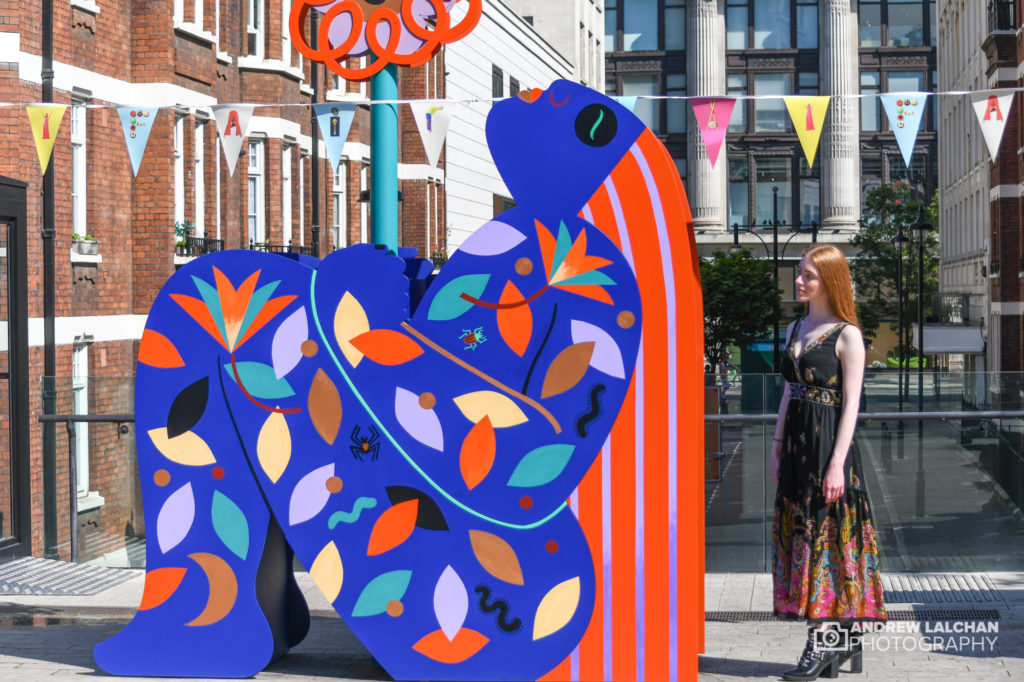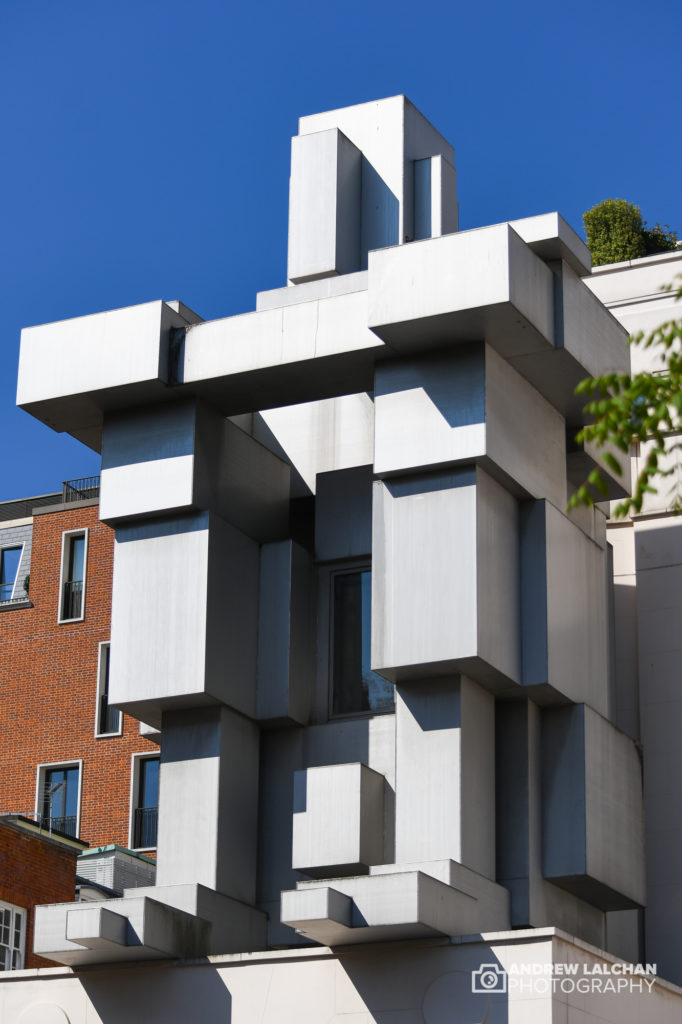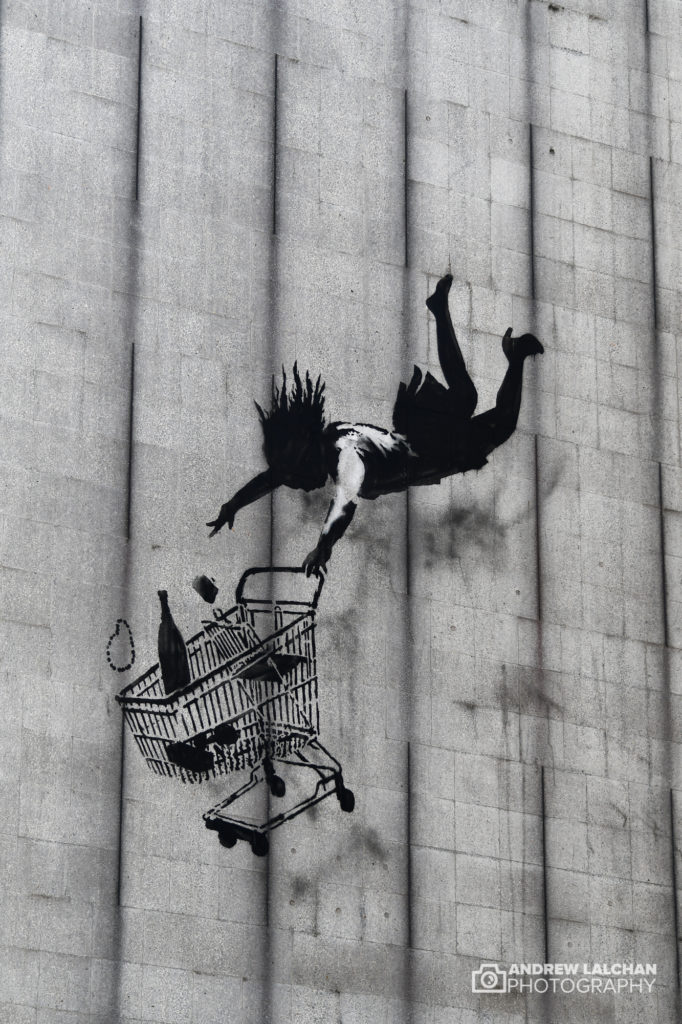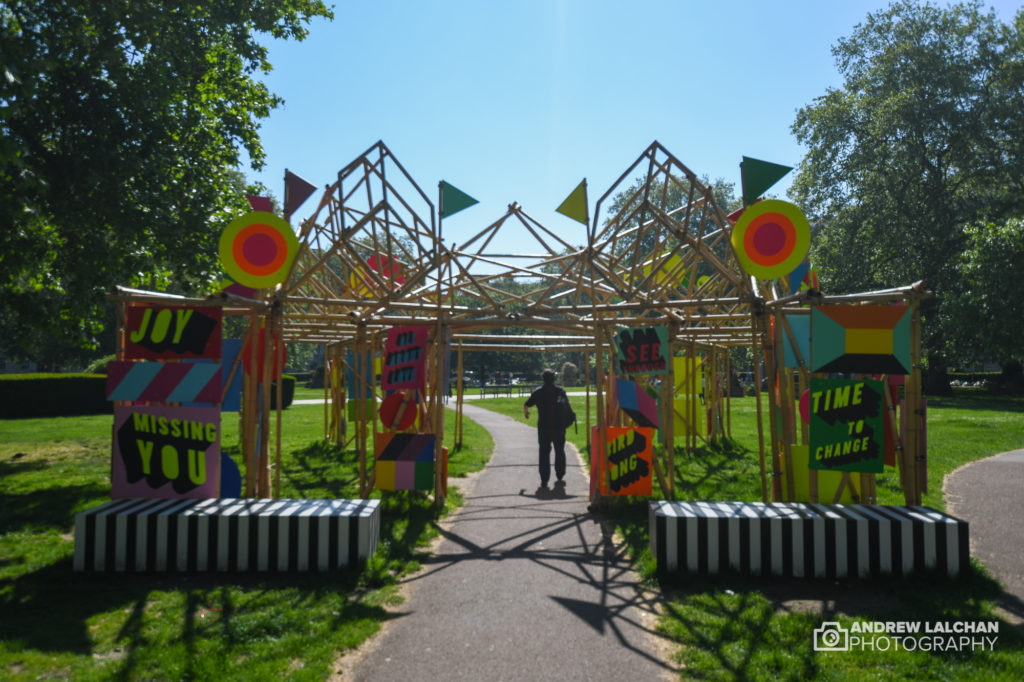 Thanks for reading, leave a comment below if you have been to the sculpture trail and what was your favourite? Sign up for my newsletter for the latest events happening around London and the SE each month.
---
Links
Mayfair Sculpture Trail – https://www.mayfairartweekend.com/sculpture-trail-2021/
Flickr Photos – https://www.flickr.com/photos/alalchan/albums/72157719330048951
Instagram – https://www.instagram.com/alalchan