Imagine Watford Festival was back again for its 9th year in 2019, bringing fun and entertainment to Watford's streets. It took place between 28th & 30th June and it brought local and international performers from around the world to perform on our streets. The festival is one of my favourite events in Watford and I have been to all 9 of them. The festival is free and is organised by Watford Palace Theatre with sponsors Watford BID, West Herts College, Veolia, Warner Bros Studios Leavesden, Helen and Frank Neale, Watford Cultural Leaders Group, Watford Borough Council and the Arts Council England.
As with every year its impossible to see everything as there are 24 performances spread over the 3 days. Below I have listed the ones that I went to together with some of the photographs that I took with lots more photographs on my Flickr website (link below).
Performances
Invasion
The first performance of the Imagine festival which took place on Friday at 9.30pm and as always was a spectacular show where the mythical world comes alive. Invasion moves through the town filling it with light, movement and sound as the creatures spread out among the people, will you run or follow?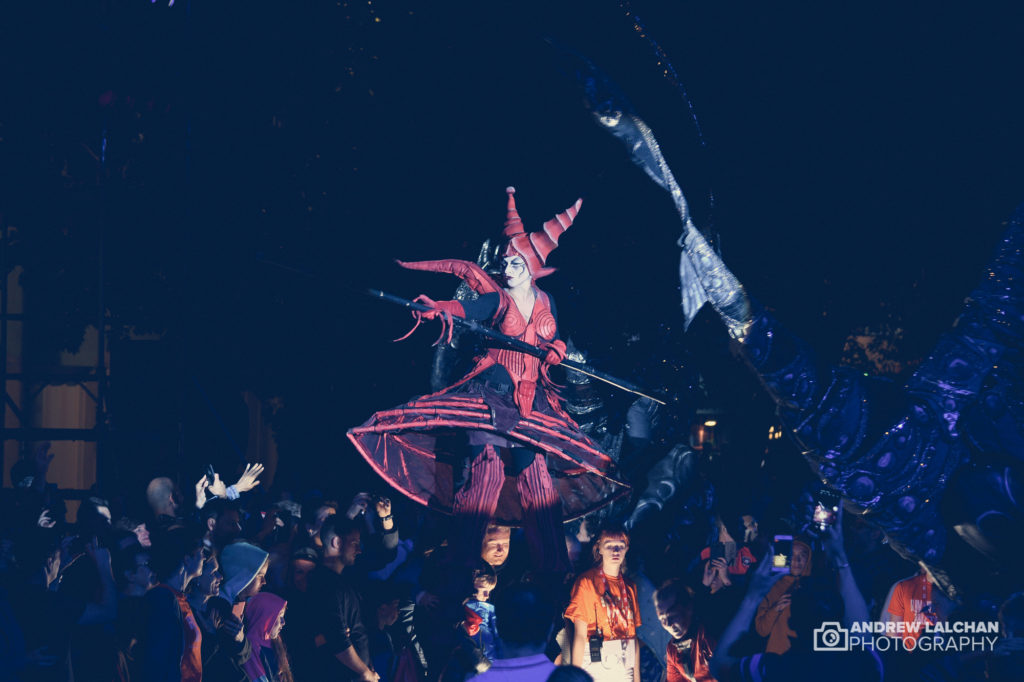 Swing Patrol & No Limit Street Band
Dance party on the high street with Swing patrol and music by the No Limit Street party. Bringing swing dancing where you can join in with the dance steps to the Charleston.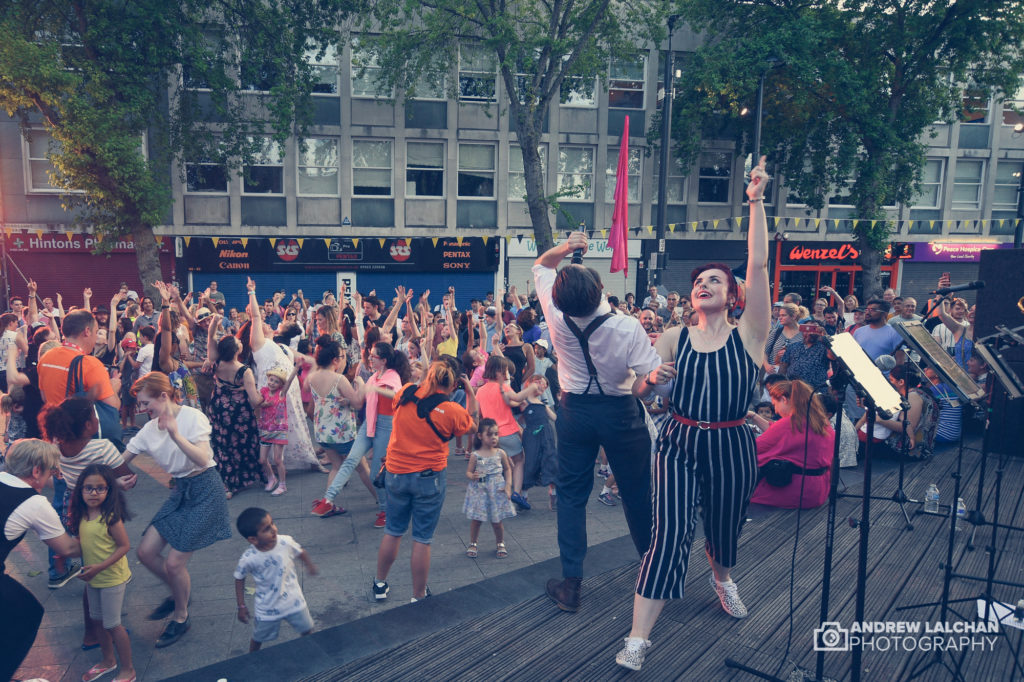 The Lips by Puppets with guts
A chorus of delightfully deviant divas whose mouths have embarked on a rocky road to stardom. Are you ready to sing with these luscious, sumptuous and undeniably vivacious big puppet lips?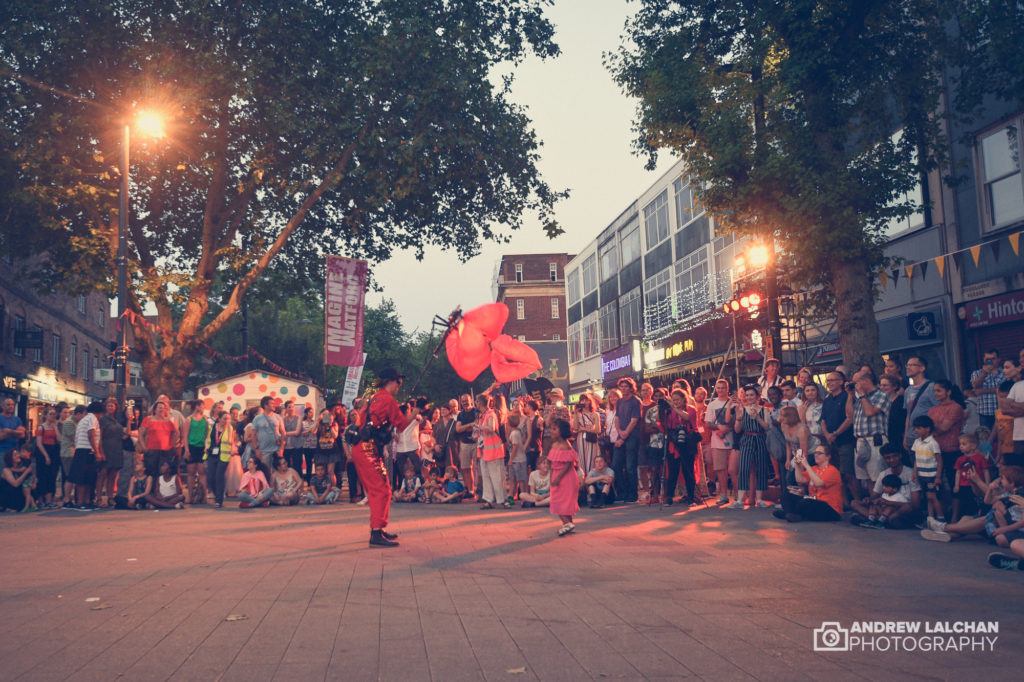 Roll up, roll up by Simple Cypher
Kieran Warner & Christopher Thomas share a passion for hip hop. Cyr wheel and juggling meets musicality, originality and play.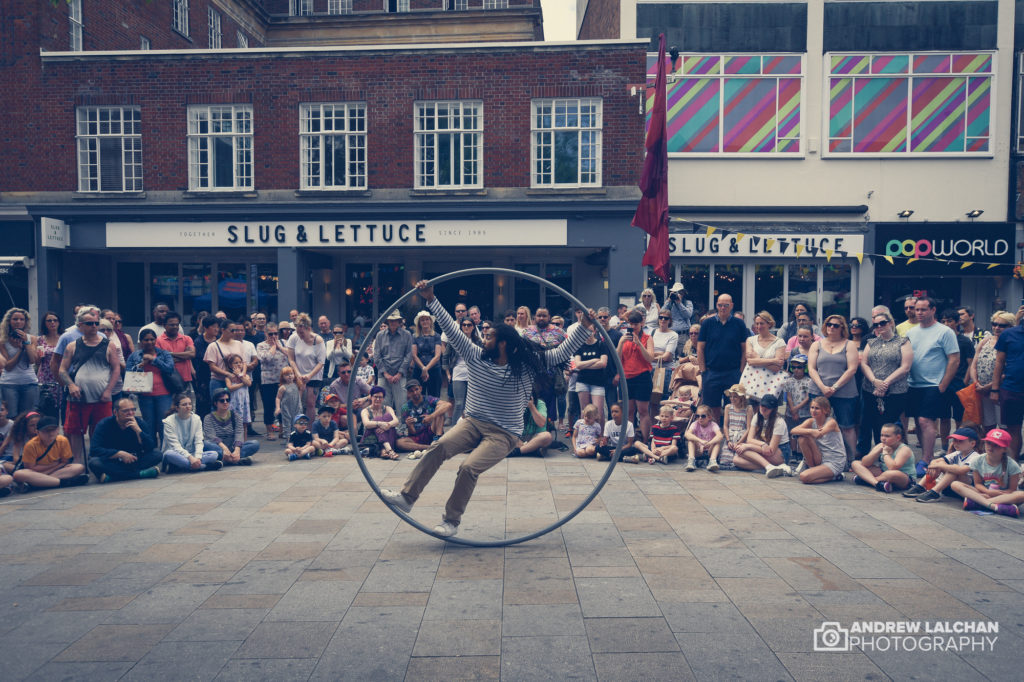 Lance Moi En L'air by Joli Vyann
An amazing performance of acrobatics between two people bringing sensitivity and connection. Can we be strong whilst relaxed? Heavy whilst light? In a mixture of abandonment and accountability, this piece is sensitive, where bodies just fit together.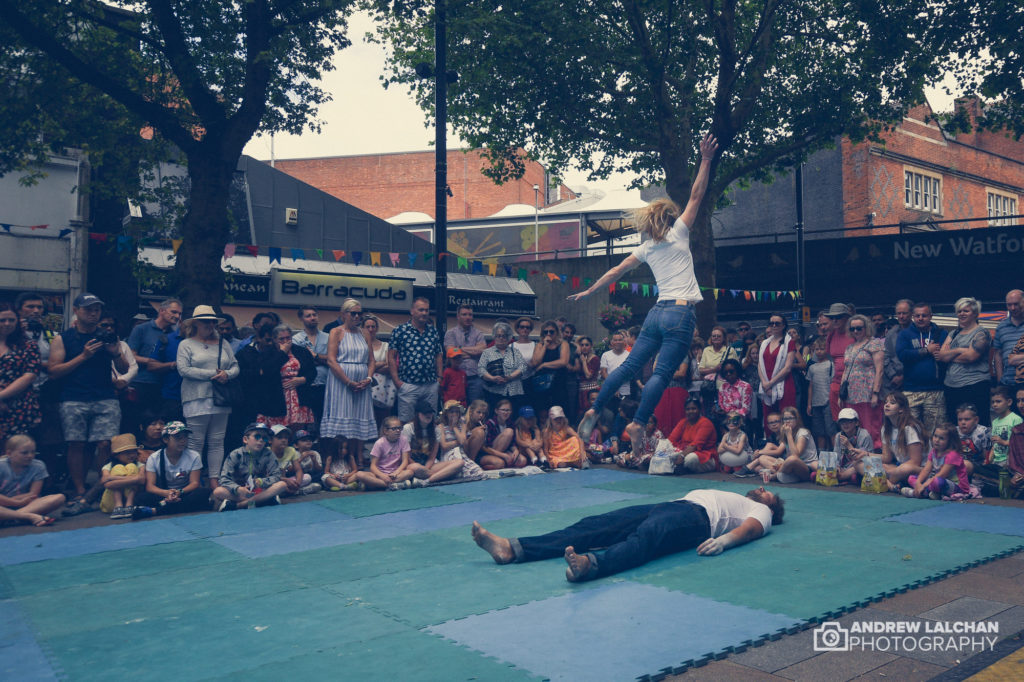 Lifted by Mimbre Acrobats
Lifted is a collection of funny, poetic and surprising moments, which explore in different ways what it means when one body is carried by another.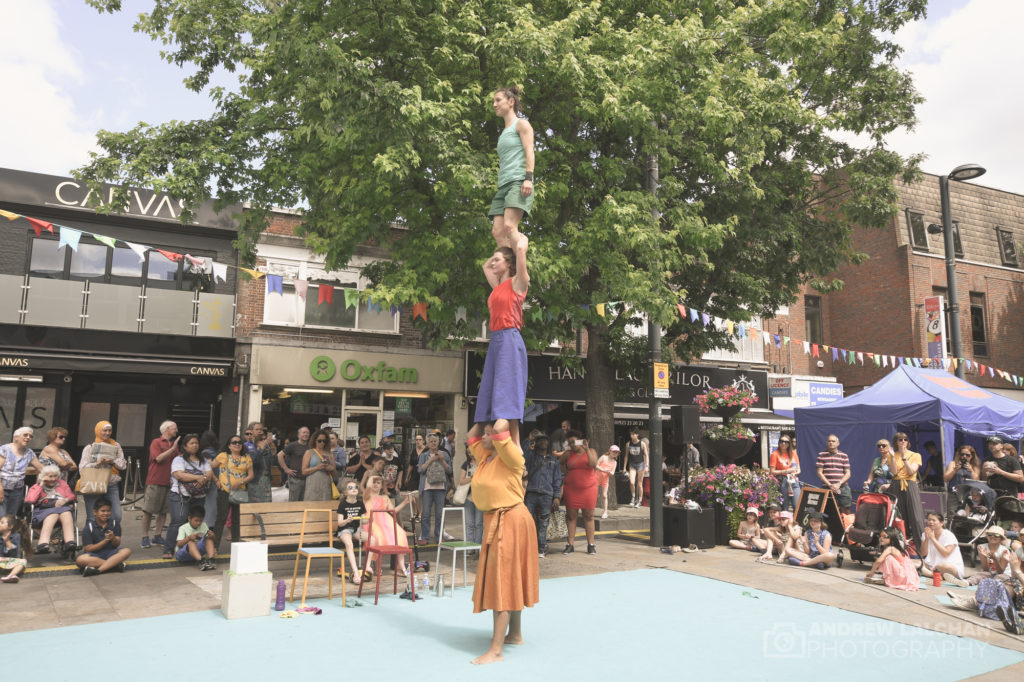 Seed by Pif-Paf
Join Wilford planting trees where he shouldn't, living in his shed and on the run from his past and his arch enemies, SLIGS, out to get him for his contraband seeds. It was a fun performance especially for the kids who gathered around mesmerised by Wilford.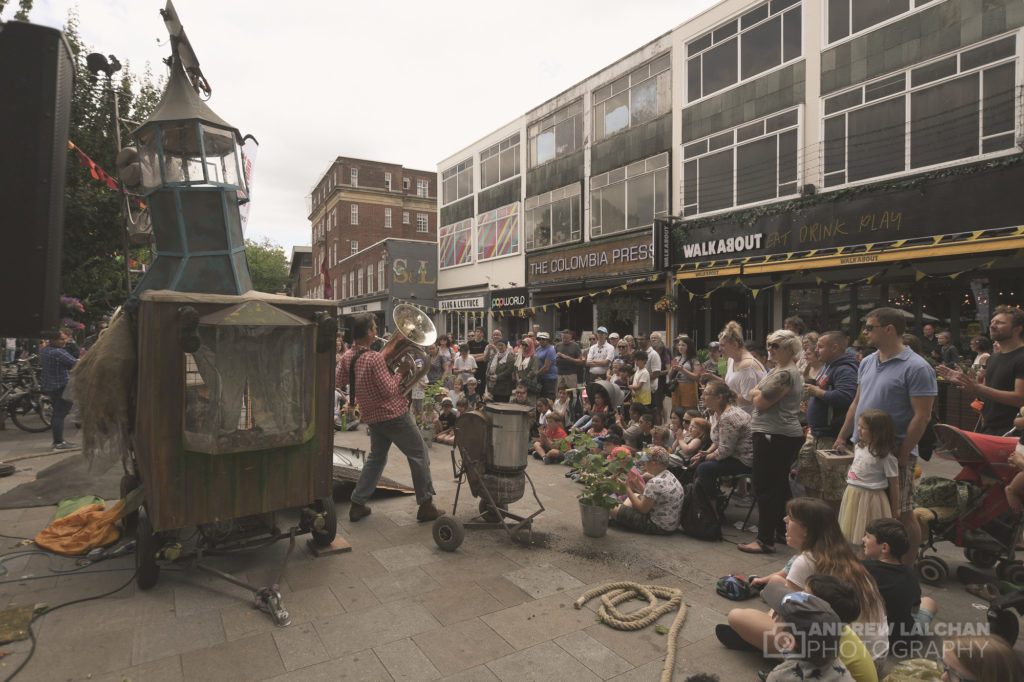 Full Circle by Avanti Display
Are they council workers or is it a piece of performance art? A slow and intriguing performance builds gently through to suspense, hilarity and unforeseeable consequences. Just how many buckets do they need? Fun performance by Avanti Display, it certainly got people laughing and participating.

Phileas Fogg by Dizzy O'Dare
Join Phileas Fogg and his valet as they attempt to circumnavigate the world in 80 days. Can they coerce their hot air balloons to go in the right direction to win the grand prize?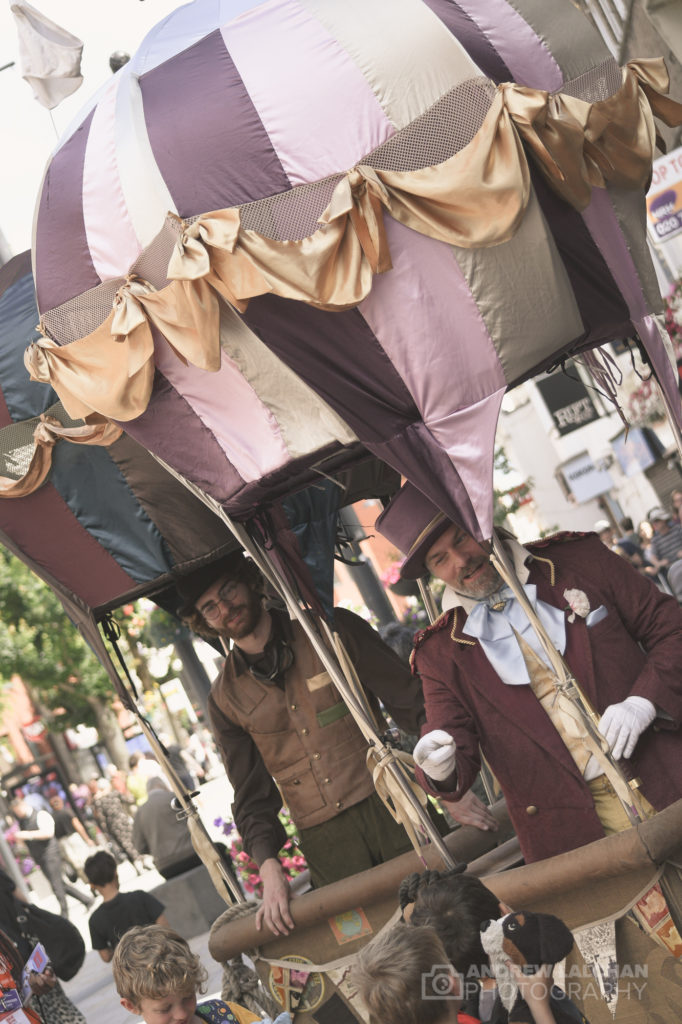 The Hair Rollers by Kitsch & Sync
50s style hairdressers have their own salon at the Intu Atrium, so make your appointment with these three vivacious ladies, a blonde, a brunette and a redhead. They are ready to snip, snap and slick you into a new style including having a good gossip as well. But watch out these ladies are armed with scissors and rollers! Do you want your new style now!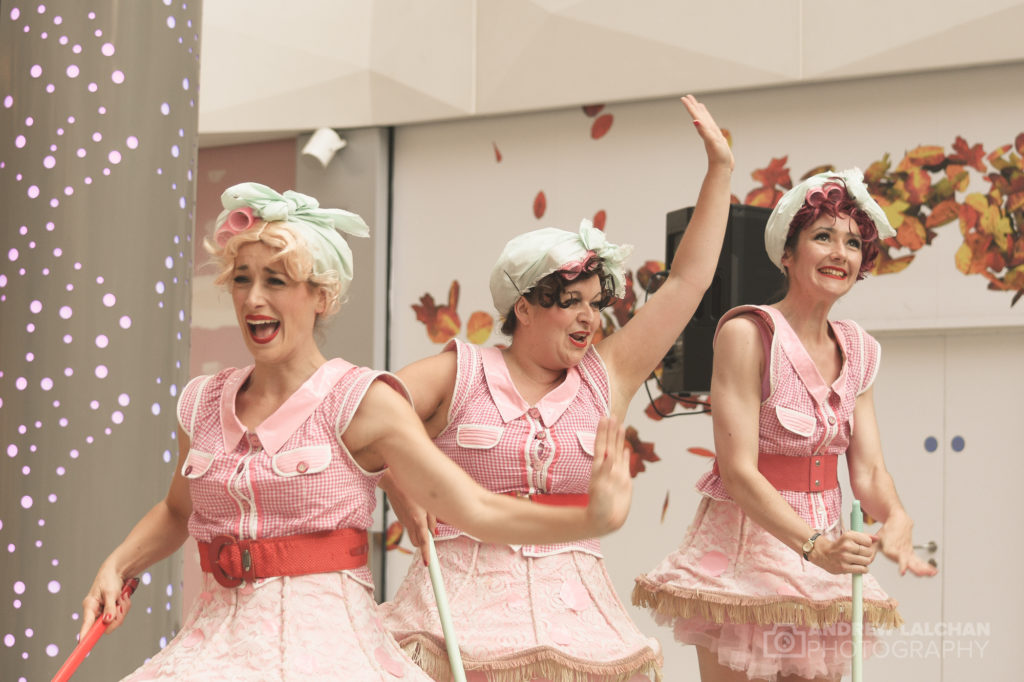 Imagination Station by Watford Palace Theatre & Sophie Carpenter
Welcome to the Imagination Station, a giant cube covered in the doodles of Sophie Carpenter. This was a place to bring your own creativity by colouring in the doodles. A great way to soak in the atmosphere at the canvas of festival fun.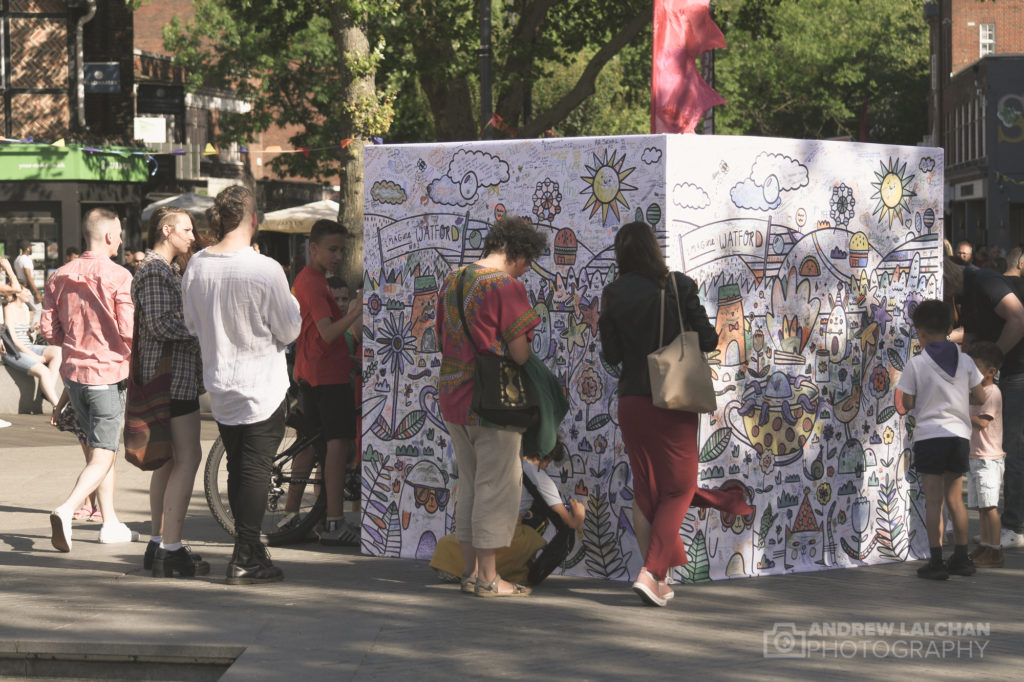 H.O.H by Far from the Norm
Combining hip hop and dance, very energetic and lots of humour from a football pitch. I only managed to catch 5 min of the performance as there were lots of people in the crowds taking in their high energy, giving a snapshot of 21st-century life.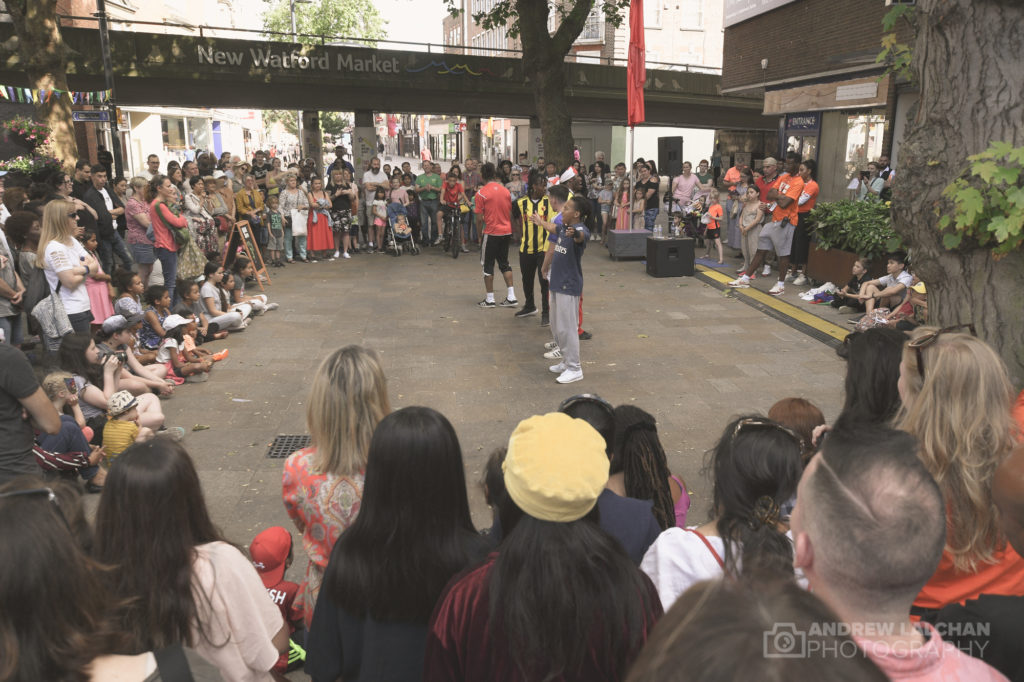 Wild by Motion House
A forest of poles was part of the performance bringing daring feats moving from pole to pole. A new dance circus production exploring the disconnect with the natural environment from our urban lives, Is the wild still shaping our behaviour?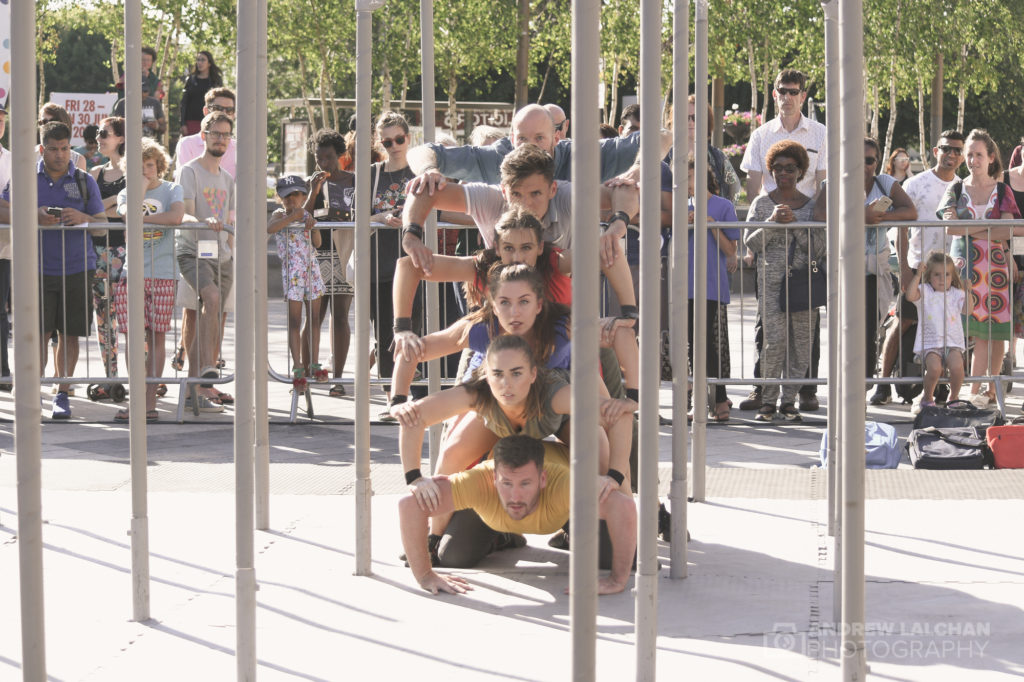 Photographs
Below are a few more photographs from the various performances across the weekend, if you want to see more click on the Flickr link below.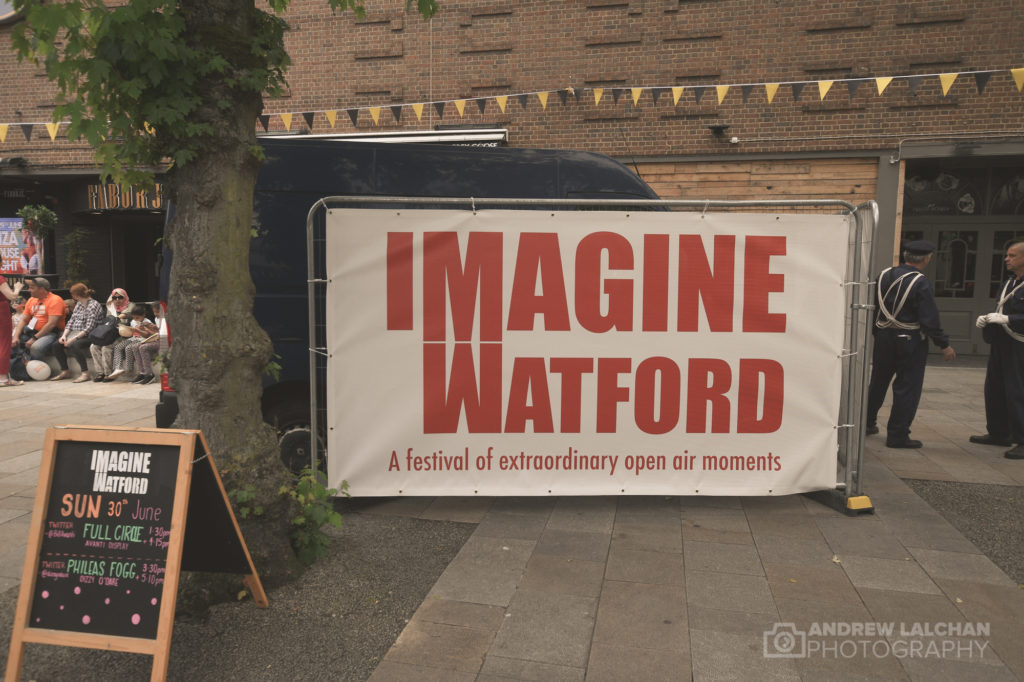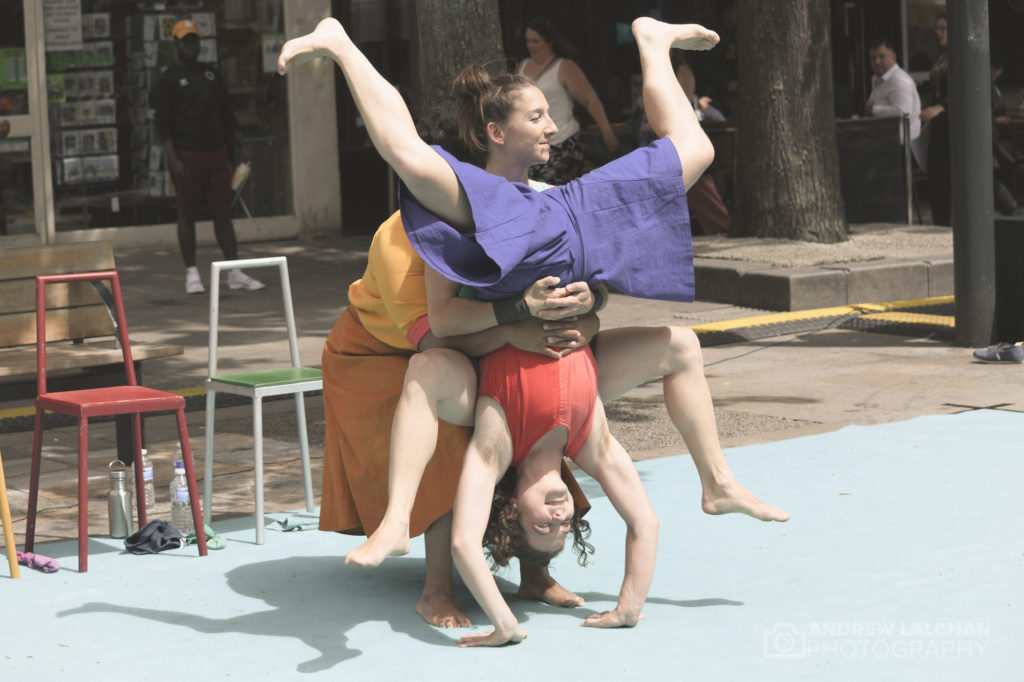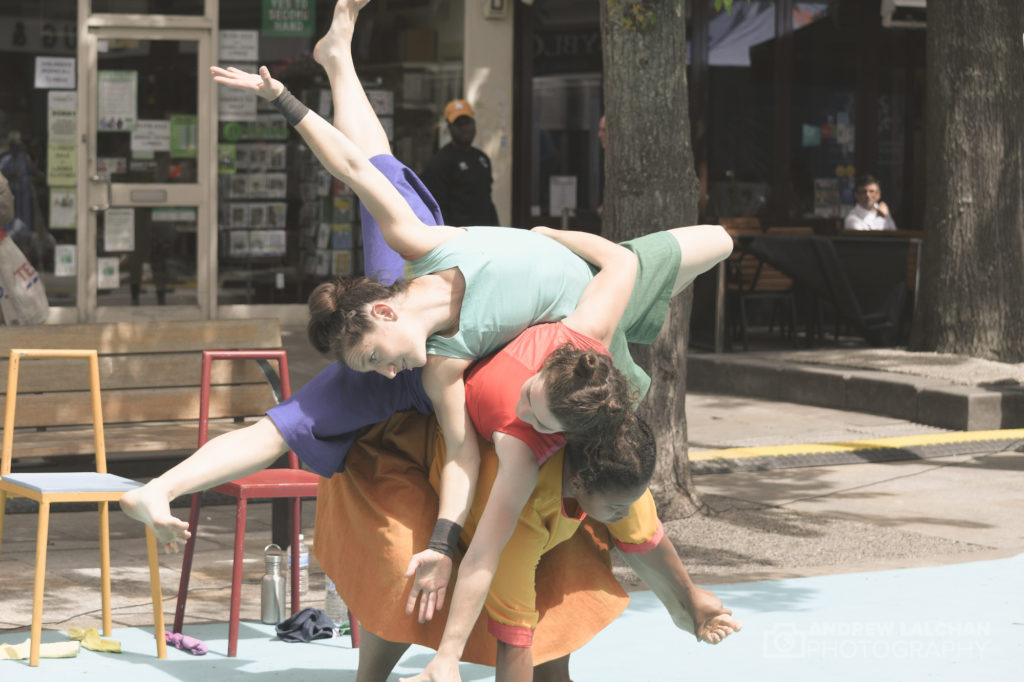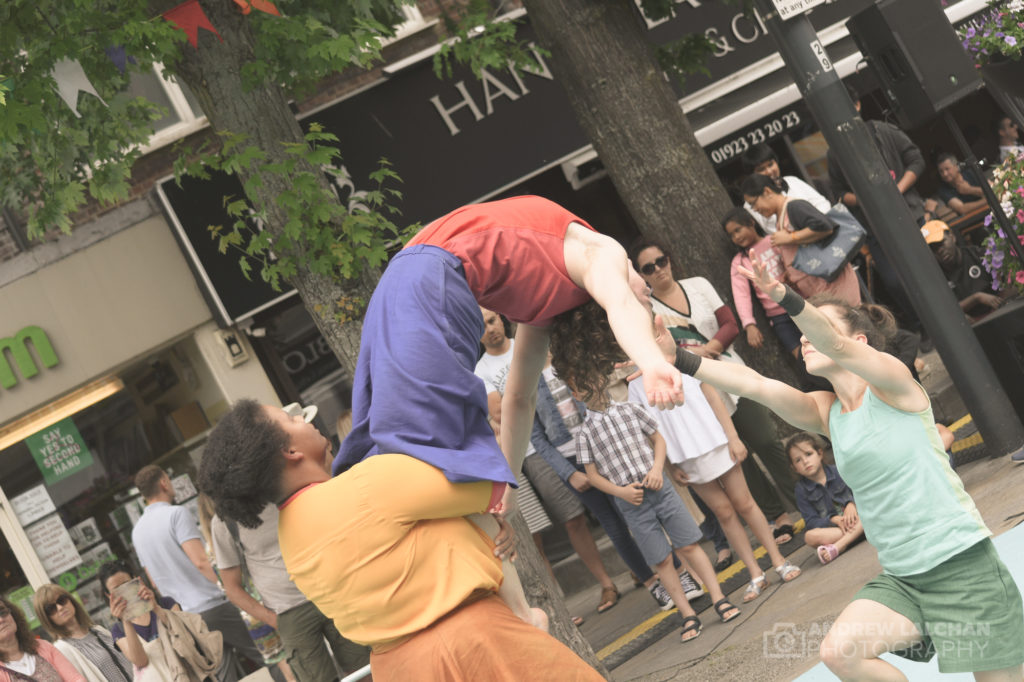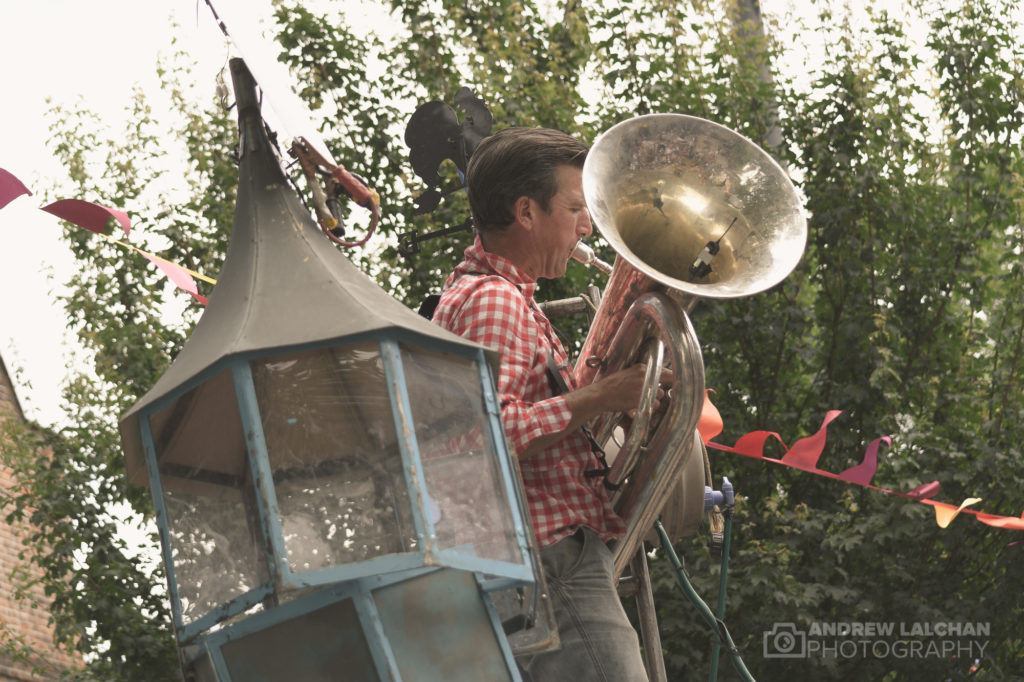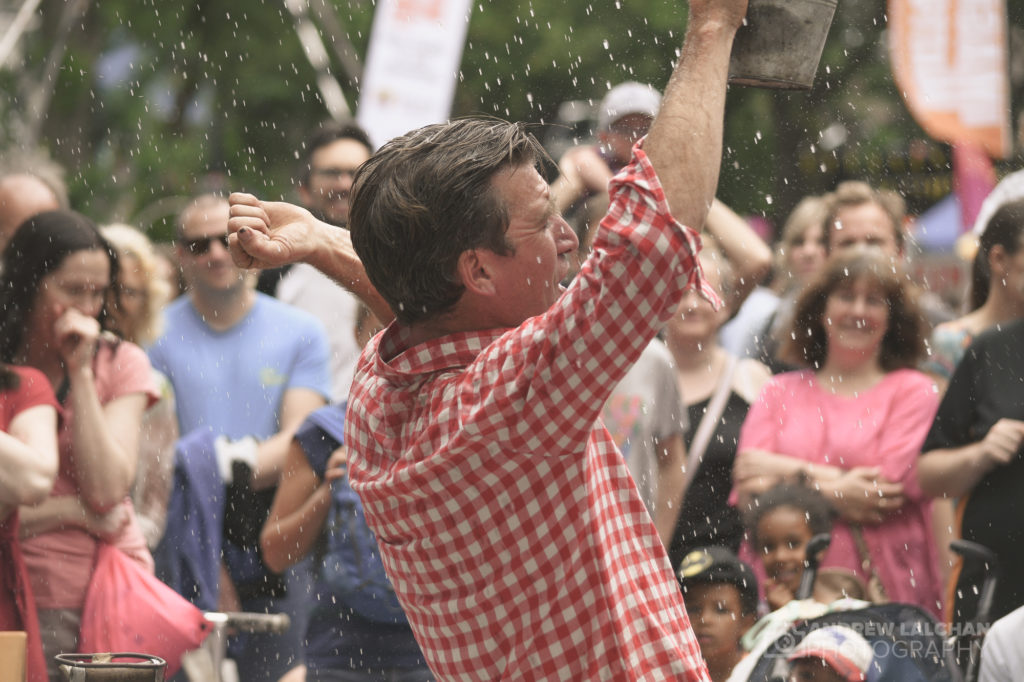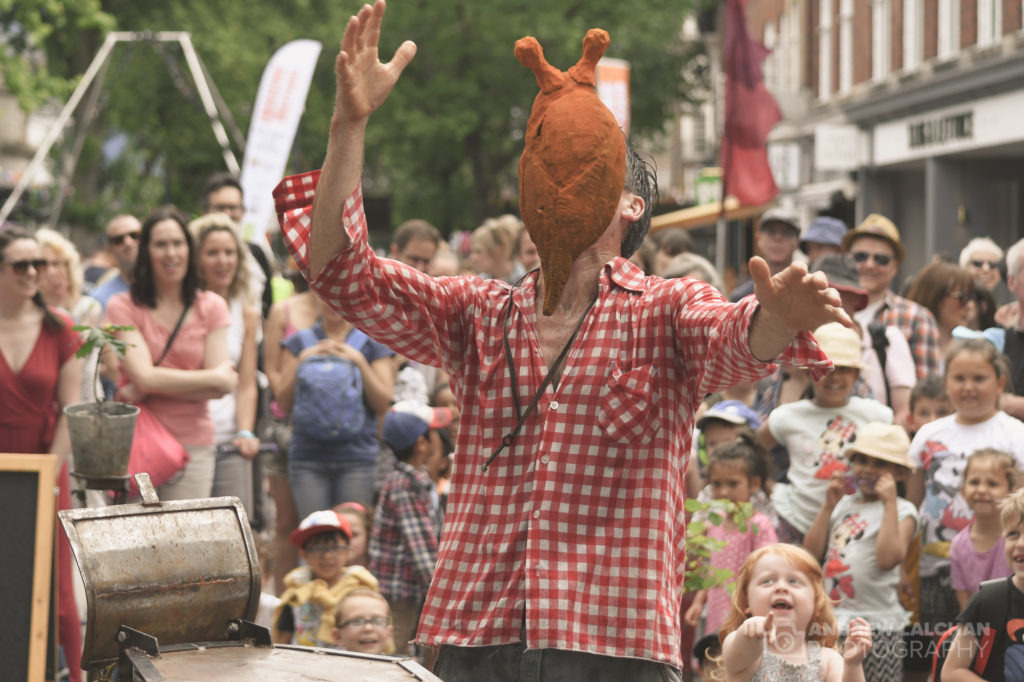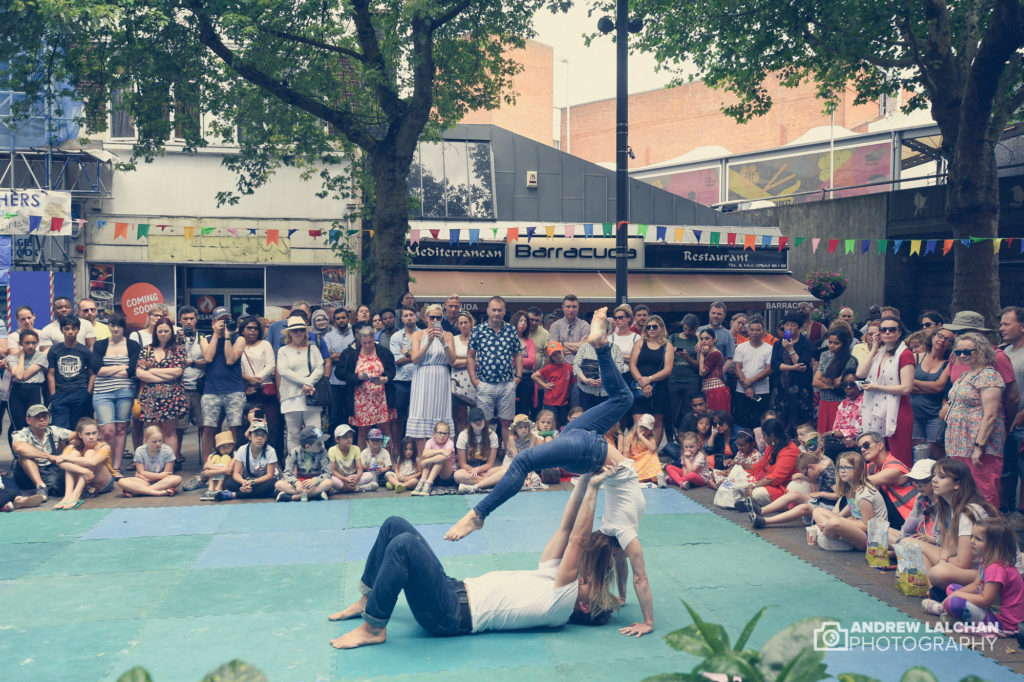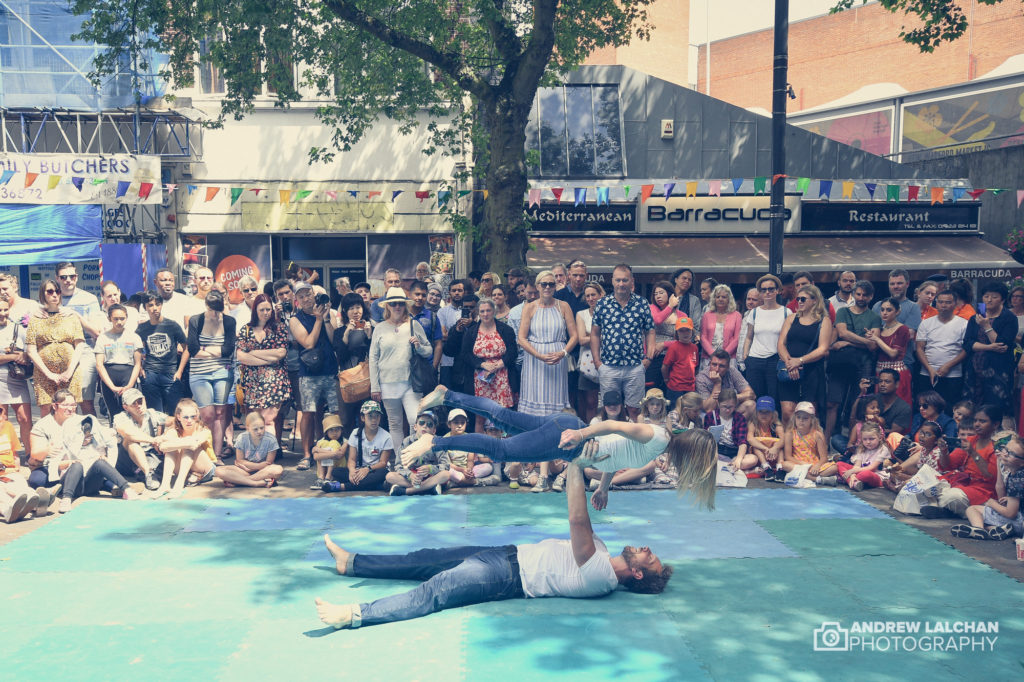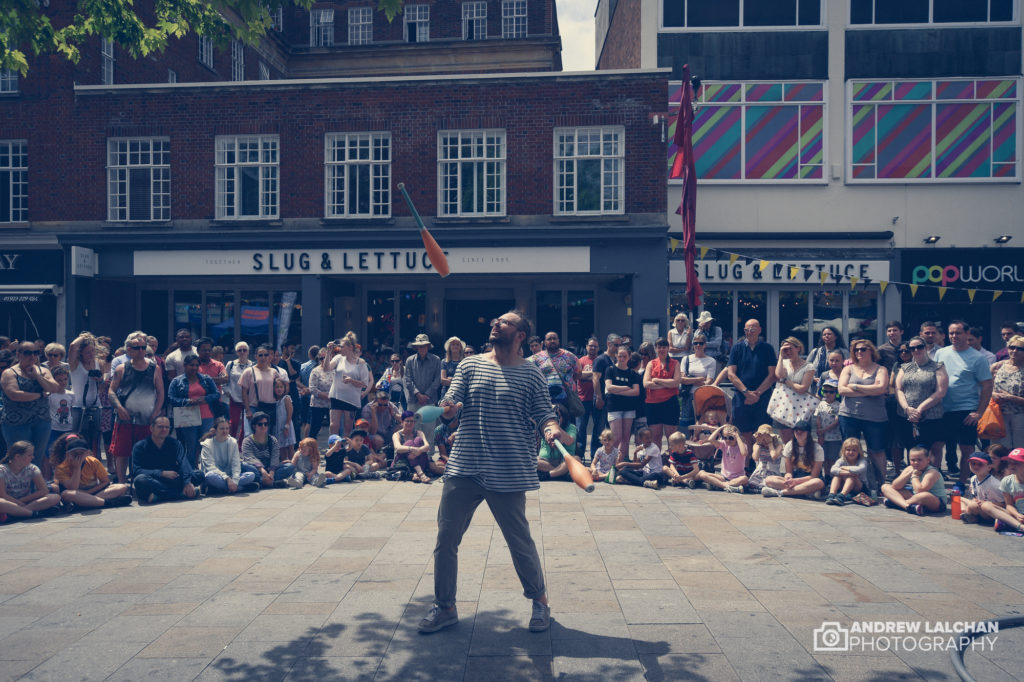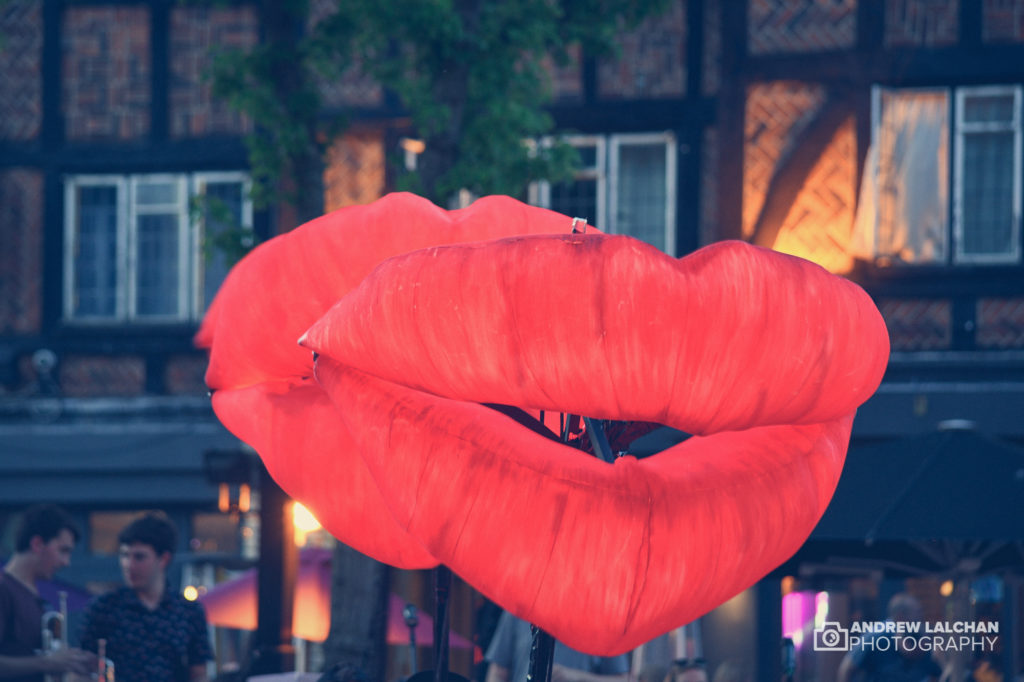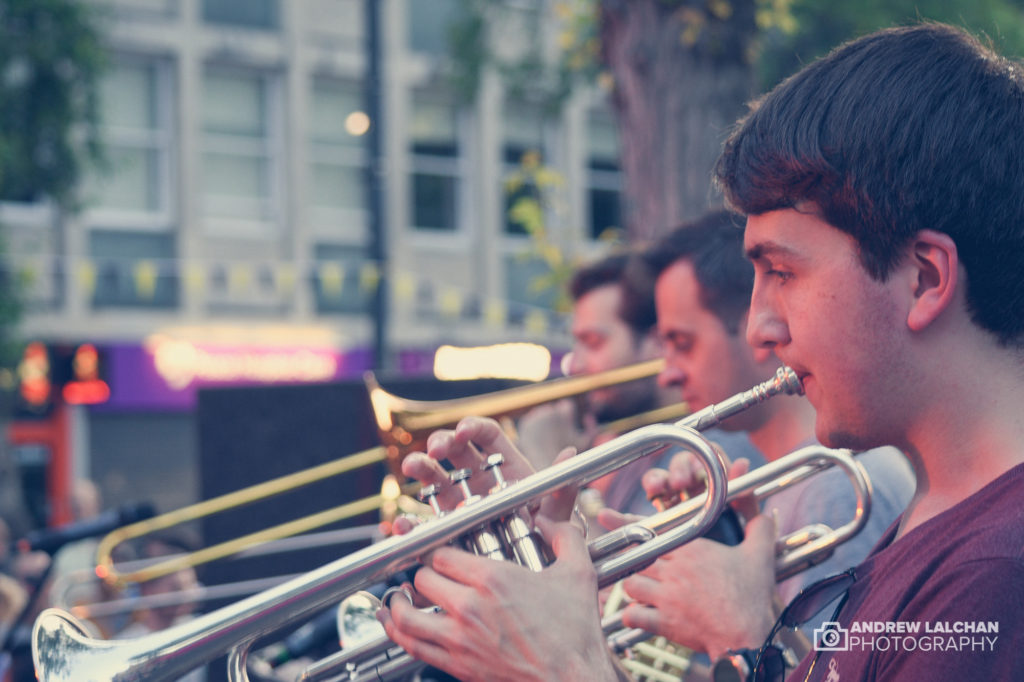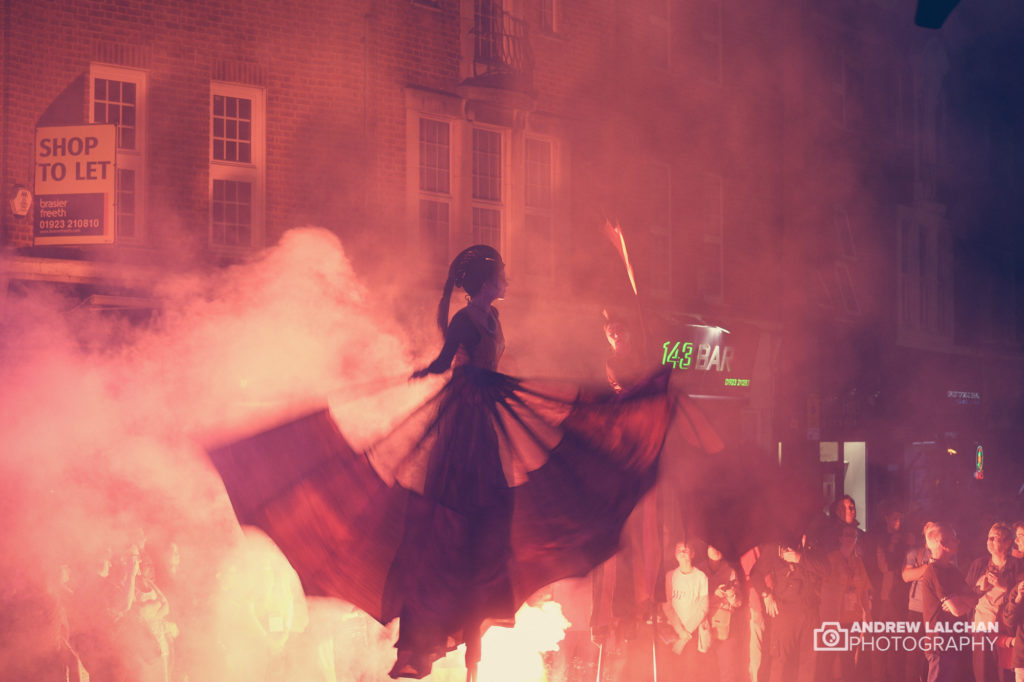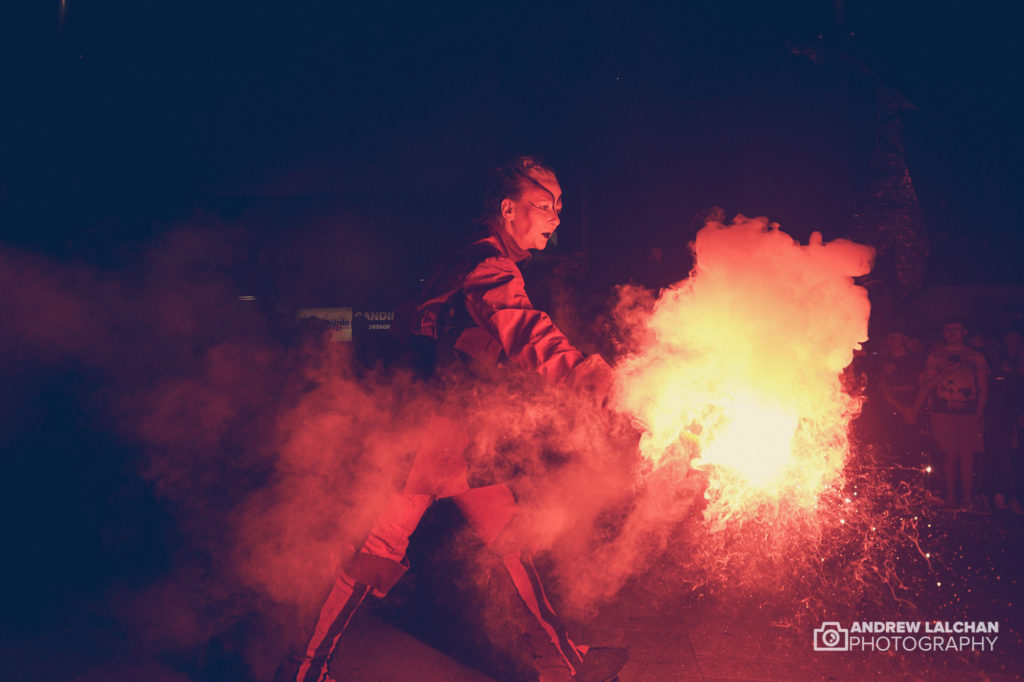 Thanks for reading, leave a comment below if you went and enjoyed the free performing arts across the town centre in 2019. One of my highlights of the year bringing the arts to the masses.
Update: As there is no Imagine Watford 2020, I have added more photos that I didn't publish before. Hopefully back in 2021!
Links
Imagine Watford – http://www.imaginewatford.co.uk/
Instagram – https://www.instagram.com/alalchan
Flickr Photos – https://www.flickr.com/photos/alalchan/albums/72157709587078946
Twitter – http://www.twitter.com/alalchan