Welcome to Hertfordshire's Year of Culture 2020 it is a year to showcase Hertfordshire as a county of creative and cultural opportunity. There are lots of events across the county which celebrate Hertfordshire's arts, culture and heritage. Find out about all the events on the dedicated website called Creative Hertfordshire.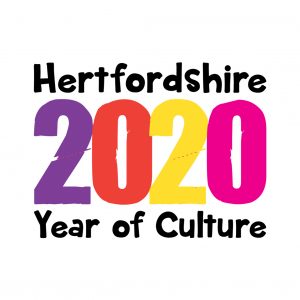 Lots of the events I create this year will be under the umbrella of Hertfordshire Year of Culture, you will see the events with the logo on. Another aim is for people to try something new, to increase wellbeing and a sense of belonging through the arts, culture and heritage. Another important aspect is through education, showing them what is available through the creative industries in Hertfordshire.
There are different themes each month, not everything will fit into those categories but definitely check out the Creative Hertfordshire website for a lot more events throughout the year. You might even spot YOCI the mascot for the year of culture.
January – Try Something New
February – Workforce Development & Volunteering Month
March – Accessing the Arts
April – Go Somewhere Local
May – The Big Outdoors
June – Big Ideas
July – Cultural Olympiad
August – Families and Friends
September – Heritage and History & Meet the Maker
October – Be Inspired – Get Back Into
November – Creative Minds & Creative Industries
December – Celebrate & Illuminate
Watford Museum will also be holding lots of events during the year you can find out about some of them on their website.
Look out for more events such as a talk from A Lady In London who has one of the top travel blogs in the UK, she will be giving tips on How to create your own blog and making it into a career. There will also be a lot more model photography shoots which people have been asking for plus Lightroom & Photoshop later in the year.
Links
Watford Photography Events – https://www.meetup.com/Watford-Photography-Meetup
Watford Big Events – https://www.watfordbigevents.co.uk/hertfordshire-year-of-culture
Creative Hertfordshire – https://www.creativehertfordshire.com
Instagram – http://www.instagram.com/alalchan
Flickr – https://www.flickr.com/photos/alalchan/albums/72157712920811407