A Get Together of Colourful People in Londons Old Spitalfields Market
If you're ever feeling down and need a quick pick-me-up, head on over to Colour Walk in the Old Spitalfields Market. This unique event takes place every third Thursday of the month, and it's a celebration of colour! People come dressed in their brightest and most colourful clothes, and it's a great way to brighten up any day. It's not even a walk – it's more of a get together! So if you're looking for something fun to do, be sure to check out Colour Walk in Spitalfields Market.
What is Colour?
Colour has the ability to affect our moods and emotions. Certain colours can make us feel happy, while others can make us feel sad. Colour also has the ability to affect our physical well-being. For example, blue is known to have a calming effect, while red is known to be energising.
About the Colour Walk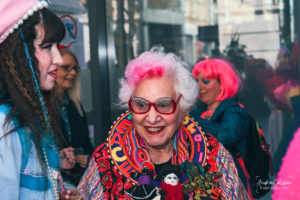 The Colour Walk is an event based on Sue Kreitzman's lifestyle. She has supported the Old Spitalfields flea market since its opening over three decades ago, and she always dresses flamboyantly in technicolour clothing when out in the world.

The colour walk came about as a way for people who shared this passion of hers to come together- those who attend events like these or simply love bright colours!
Her friends knew they would find her at the flea market every Thursday, so they'd catch up there, usually looking just as flamboyant and colourful as she does. With long-time friend Meihui Liu, Sue has organised different fashion and art events before the Colour Walk was a thing, and in March 2016, they organised an event of that kind with Diane Goldie.
That same year, Galina Sherri from Gigi's Dressing Room organised the first three Colour Walks, also putting a name on the event for the first time: one at the V&A in May 2016, the first one in Old Spitalfields in August 2016 and one in Walthamstow in November 2016.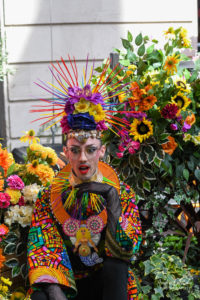 In December, Florent Bidois, who had come to the previous events, was impatient for a new event in Old Spitalfields Market.  He realised a few friends wanted to meet at the same time at the flea market; he organised the first Colour Walk as we know it: a monthly gathering of creative people who love to dress up and love colour(s), all while supporting a dedicated flea market. He has committed to organising it every month since, apart from a 16 months hiatus due to Covid.
It's about supporting the market, expressing themselves and having fun. It's also now become a great place for photographers to find willing models and practice their skills. A safe place to make new friends.
If you want to go to the Colour Walk, it takes place in Old Spitalfields Market close to Liverpool Street Station. A short 5 – 10 minute walk. Anyone is invited, photographers and people who want to dress up.
Follow the London Colour Walk Facebook Page for more information, but it happens each month on the 3rd Thursday at 1pm.
Here are some of my favourite photographs from previous walks; I have been photographing this event for the last five years. You always come away with great shots. Even more, photographs can be found on the Flickr link below. 
No matter what your mood, Colour Walk in the Old Spitalfields Market is sure to put a smile on your face. So next time you're feeling down, be sure to head on over and enjoy the company of some colourful people! Thanks for reading.
Links